3/4

3/4

3/4

3/4

3/4

3.5/4

3.5/4

3/4

3/4

3/4

3/4

2.5/4

2/4

2/4

3/4

3/4

3.5/4

3/4

3/4

3.5/4

3/4

3.5/4

3/4

3.5/4

3/4

Prev 25 | Next 25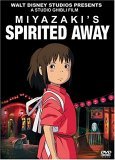 Spirited Away ( Sen to Chihiro no kamikakushi )
I'd like to help you, dear.
3/4 stars
The highest grossing movie in Japanese history, Spirited Away offers so much more than an animated children's fantasy.
Playing on the themes of childhood to Adulthood and the conflicts between Modern society in Japan and the past, this is a movie rich with colourful characters, extraordinary situations and imaginative storytelling.
Weird and wonderful, this surreal "Alice in Wonderland" fully deserves the many plaudits it received.