3/4

3/4

3/4

3/4

3/4

3.5/4

3.5/4

3/4

3/4

3/4

3/4

2.5/4

2/4

2/4

3/4

3/4

3.5/4

3/4

3/4

3.5/4

3/4

3.5/4

3/4

3.5/4

3/4

Prev 25 | Next 25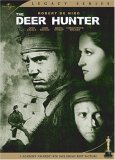 The Deer Hunter
A deer has to be taken with one shot.
3.5/4 stars
A movie which over the years has withstood some criticism and controversy.
Hardly liked by Vietnam Veterans and deemed by some to be racist, the Deer Hunter is nevertheless a powerful and harrowing experience.
More about male friendship than the horrors of battle, this is a film that concentrates on the effects and aftermath of going to war.
Emotionally potent, at times devastatingly so, the Deer Hunter is a compelling study of insanity, intolerance and grief.
Stunningly directed with powerhouse performances from De Niro, Walken and Streep, the Deer Hunter may not be the most accurate depiction of combat ever, but it would be difficult not to put it on anyone's list of the best War movies of all time.