3/4

3/4

2.5/4

1.5/4

3/4

3/4

3.5/4

3/4

3/4

3/4

3/4

3/4

3.5/4

3/4

3/4

3/4

3/4

3/4

3/4

3/4

3.5/4

3/4

3/4

3/4

3/4

Next 25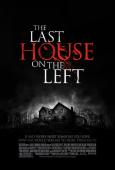 Last House on the Left, The (2009)
I'd expect a lot more fight outta you, John.
2/4 stars
Unnecessary and painfully derivative re- make of Wes Craven's semi classic and cultish movie " The Last House on the Left".
Last House is a well-made revenge thriller with an above average cast but lacks any moral fiber and is painfully unoriginal.
As an exercise in gore-nography, this is a movie, which pulls all the right strings; torture, mutilation and ultra violence abound and throw in a shockingly gruesome final death scene right out of a 1980s video nasty and the sadists get there proverbial moneys worth.
Taken at face value though, Last House has no character development, few shocks and is brutal, nasty and pretty ugly to watch. As with Rob Zombies "Halloween" this is another re-make which quite simply doesn`t hold a candle to the original.