3/4

3/4

2.5/4

1.5/4

3/4

3/4

3.5/4

3/4

3/4

3/4

3/4

3/4

3.5/4

3/4

3/4

3/4

3/4

3/4

3/4

3/4

3.5/4

3/4

3/4

3/4

3/4

Next 25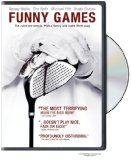 Funny Games (2008)
What do you think? Think they stand a chance?
3/4 stars
A shot by shot remake of Director Michael Hanekes 1997 original (Which I'm ashamed to say I have yet to see) Funny Games is an indomitable and disturbing exercise in endurance. It is in essence, a movie that you feel compelled to stop watching. It pushes the viewers patience to the limit and continues to manipulate the emotions.
Funny Games could hardly be classed as entertainment, its a challenging and gruelling ride and is intentionally horrific.
I watched this movie after a lovely day out at the seaside with my family. I actually went to bed feeling distressed and drained. This feeling didn't subside for a couple of days; surely this is the true meaning of horror.