3/4

3/4

3.5/4

2.5/4

2.5/4

3.5/4

3/4

2.5/4

3/4

2/4

2.5/4

3.5/4

3/4

2/4

3/4

2/4

2.5/4

2/4

3/4

3/4

3.5/4

3/4

2/4

2/4

3/4

Next 25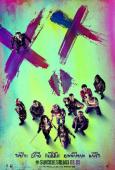 Suicide Squad (2016)
These Villains Can't Save the DC Slump
2.5/4 stars
Suicide Squad isn't a bad movie - but it can't settle on anything. It's like you give a kid with ADD a bunch of meth and double espressos just to see what he can come up with. The result is a film that is all over the place and despite some stand-out performances (and a pretty good soundtrack), can never find its footing.

We all know this set-up, the most villainous villains around are rounded up for a secret task force to take on "meta-humans" (aka Superman gone bad), some of whom have powers themselves. Luckily this task force is headed up by Amanda Waller (Viola Davis), who, in my humble opinion, is more bad-ass and scary than any of the villains she recruits. On her side is super-soldier Rick Flag (Joel Kinnaman) and his girlfriend June Moone (Cara Delevingne) who also happens to be the vessel for an ancient entity the Enchantress. Lucky they managed to find her heart, because that keeps the witch in check.

On the rogues gallery that Waller wants to recruit includes the mercenary for hire who never misses with a gun, Deadshot (Will Smith), the Joker's (Jared Leto) right-hand woman, the thoroughly unhinged Harley Quinn (Margot Robbie), a one-time gang-banger who has taken a path of peace following an outburst that left him broken, El Dialbo (Jay Hernandez), an Aussie with a mouth and some fancy weapons Boomerang (Jai Courtney), a mutant (in every sense of the word) with a lot of power KIller Croc (Adewale Akinnuoye-Agbaje) and a dude who is really good at getting around Slipknot (Adam Beach). Throw in a soul-stealing sword, Katana (Karen Fukuhara) and you have your team.

Now, the problem with Suicide Squad is that half the members need to be given some backstory and that takes up a good chunk of the film. As many have said, it's like watching The Avengers and flashing back to each origin story momentarily. It really breaks up the flow. Plus, even with the back stories, none of the characters are really given enough - Smith's Deadshot and Robbie's Quinn come closest - but it's not enough. Heck, I think Diablo's story is the better one - but you never get enough of it.

Throw the flashbacks aside and the main story isn't much better. After the introductions essentially everyone is thrown together on a mission (with detonation chips embedded in them so they won't run off) while The Joker makes his own plan to rescue his gal. Speaking of which, so many people are complaining how sexist this movie is. I mean, do they know how Harley Quinn has been depicted? Hell, I think Robbie was one of the better casting choices as she owned every twitch, wink and strut. Leto was also good, though, like so many of the characters, underutilized. Then then the movie just devolves into a series of gunfights and action.

While there is plenty to like about Suicide Squad from the dark humor to the casting to the somewhat disjointed but enjoyable soundtrack, there is a lot that should have been fixed. If DC was hoping this was going to be their Guardians of the Galaxy, it may have made a lot of money but it didn't impress me enough to say the DC films are going to succeed.