2.5/4

3/4

2.5/4

3/4

3.5/4

3/4

3/4

2.5/4

3/4

3.5/4

2.5/4

3/4

2.5/4

2/4

2/4

3/4

3.5/4

3/4

3/4

3.5/4

2.5/4

2.5/4

3.5/4

3/4

2.5/4

Next 25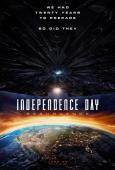 Independence Day: Resurgence
Independence Day Needs More Fireworks
2.5/4 stars
With so many big franchises getting some long-delayed sequels, it was only a matter of time before the true master of disaster, Roland Emmerich, got in on this craze. Independence Day was a huge film back in 1996 - big names, big action and one of the first big world-ending "disaster" movies that became that director's signature. Now, 20 years later, we get a followup to the alien invasion.

Much of the main cast is back - Jeff Goldblum, Bill Pullman, William Fichtner, Judd Hirsch, Brent Spiner and Vivica A. Fox all reprise their respective roles. Notably absent is Will Smith, who reportedly wanted a bit too much money and thus was written out as a casualty of testing the alien technology which is now prevalent in this alternate world. Likewise, Mae Whitman, who played the young Patricia Whitmore was replaced by Maika Monroe, in what many consider to be a case of picking someone more "pretty" for the role.

In any case, maybe it's the actors who didn't show up who got the last laugh as the box office hasn't been very kind to this sequel as it didn't receive near the nostalgia factor that audiences gave to Jurassic World and Star Wars: The Force Awakens. While I found the film to be a pretty much picture-perfect summer blockbuster, it's not one that stands out among the crowd. Serviceable but nowhere near memorable or spectacular.

One thing the film does well is getting the humor right - especially in regards to Goldblum's quirky David Levinson and the even crazier mad-scientist-esque Dr. Brakish Okun played by Spiner. When the movie has fun - I have fun. But sometimes it tries too hard - in regards to Hirsch's entire storyline (involving a bunch of kids and a bus that much have been made by the same magical company that provided the bus in Speed back in the day), which is way too astounding for its own good.

For all the talk about new characters, I didn't really get that much out of Liam Neeson, Monroe or Jessie T. Usher. Usher is the grown-up son of Smith's character, Dylan Hiller while Hemsworth plays a once hotshot pilot turned moon courier thanks to a training stunt that nearly got Dylan killed. There is supposed to be some romance between Neeson and Monroe, but it never really worked for me. Heck, I liked the African warlord character and the meek government official's rapport better than those two.

Anywho, who cares about characters, you go into and Independence Day movie for the action, right? I mean, an entire city gets lifted via gravity before falling on top of London. Epic waves, battles between aliens and Earth's awesome alien technology fighters, giant lasers (no sharks, however) - there is a lot going on here. For all that action, though, it never felt as exhilarating as the original film when those cities where hit by the smaller ships. It tries, oh does it try, but it never achieves that really great moment.

The film does set itself up for sequels, but I have to think that after the somewhat muted response, any future films will probably be a bit scaled back. Still, after all this time the movie could have been really terrible - it's not bad, it's just that it's also not that impressive. For a summer movie, it works well enough, but with all the other options out there, this feels like a third-tier choice at best.