2.5/4

3/4

2.5/4

3/4

3.5/4

3/4

3/4

2.5/4

3/4

3.5/4

2.5/4

3/4

2.5/4

2/4

2/4

3/4

3.5/4

3/4

3/4

3.5/4

2.5/4

2.5/4

3.5/4

3/4

2.5/4

Next 25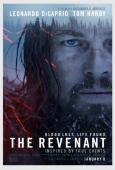 Revenant, The (2015)
Bleak, Brutal and Breathtaking
3.5/4 stars
Throughout his career, Leonardo DiCaprio has turned in many excellent performances - from The Wolf of Wall Street to Django Unchained to Inception. Yet The Revenant, where he has perhaps the least lines out of any of his films, may be his best performance to date. They say the eyes are the window to the soul, and with just a haunting look and will to survive, that may be enough to finally earn DiCaprio his first Oscar.

DiCaprio plays Hugh Glass, an expert explorer and frontiersman helping a company of fur traders in 1823. He and his son, a half-Native American, Hawk (played by Forrest Goodluck) are helping Captain Andrew Henry (Domhnall Gleeson) and his men including John Fitzgerald (Tom Hardy), the young Bridger (Will Poulter) and several other men. But when their company is attacked by a group of Arikara Indians (named the Ree by the men) it leaves almost the entire company dead. Salvaging what furs they can, the survivors (including Glass and his son) make for a nearby outpost. Before they arrive, Glass is attacked by a grizzly, suffering nearly fatal wounds. When it becomes too hard to take Glass any further, Fitzgerald and Bridger stay behind with Hawk to give Glass a proper burial.

DiCaprio spends most of the film fighting for his life. In the stark, frigid wilderness he must fight both man and nature but his sheer will keeps him going. He finds help along the way - a lone Pawnee warrior (also out for revenge of his own) saves him from starvation and freezing. He also manages to rescue a captured Arikara girl - one that factors in to his own story. But it is rough going - but for such a journey, the movie is shot beautifully.

It is no secret that shooting The Revenant was no easy task. Director Alejandro González Ińárritu is very demanding and sticks to his vision. That meant shooting only for a few hours each day in natural light. It also meant that some of the crew couldn't keep up and left the set. DiCaprio himself ate an actual raw bison liver, despite the fact he is a vegetarian. The weather went from too warm to too cold - with part of the shoot having to moved to Argentina when it got too warm in Canada. But I have to hand it to Ińárritu and his cinematographer, Emmanuel Lubezki: there are some of the most beautiful shots I have seen - trees swaying in the wind, water flowing, ice melting, the vista of the mountains and eerie moon-lit nights - it's more than great, it is exceptional.

It also helps that the score, from the unconventional choice of Ryuichi Sakamoto, also matches the aesthetic of the visuals. He might seem like a random choice, but he is up to the challenge and creates a score as haunting as the stark look. It is one of the rare exceptions when everything seems to come together just about perfectly.

If I have any complaint, it's that I think the dream sequences - of which there are a few - seem out of place in a film where cold reality and fighting to survive are the main elements. It also ends on a somewhat abrupt note where a little more resolution (even some kind of text) would have been appreciated. Minor quibbles for an otherwise excellent film, but I have to drop it a bit.

In the end, The Revenant is one of the films that certainly deserves the attention it has got, and if it doesn't walk away with a few more awards (DiCaprio included) I think it will be an oversight.