2.5/4

3/4

3.5/4

2.5/4

3/4

2.5/4

2/4

2/4

3/4

3.5/4

3/4

3/4

3.5/4

2.5/4

2.5/4

3.5/4

3/4

2.5/4

3/4

2/4

2.5/4

3.5/4

3/4

2/4

3/4

Next 25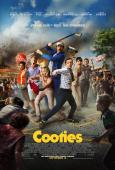 Cooties
Infectious Fun for the Right Crowd
2.5/4 stars
Your level of enjoyment of Cooties is going to be directly related to how much you like the zombie genre. Granted, to a stickler like me it should be noted Cooties is more of a 28 Days Later type of infection rather than a true "zombie" film. It also depends on your tolerance to the characters - most of who you can't exactly relate to (or even like).

Elijah Wood plays Clint - a would-be author (trying to write a book about a possessed boat) who returns to his small town of Chicken Fort to live with his mother and scrape by on his substitute teaching position. He runs into a group of characters - the PE teacher, Wade, living his past days of glory (Rainn Wilson), the creepy, socially-maladjusted Doug (Leigh Whannell), the new age, cell-phone free vice principal (Ian Brennan), the rape-whistle toting, up tight Rebekkah (Nasim Pedrad), the is-he or isn't-he Tracy (Jack McBrayer) and the overly-optimistic small-town crush Lucy (Allison Pill). Each characters is pretty much limited to one trait - but they play these traits for all they are worth. There is also Jorge Garcia as the perpetually-stoned crossing guard and Peter Kwong as the janitor/martial arts expert.

The biggest problem is that, aside from Pill, most of the characters are either cookie-cutter thin or just kind of turn you off. Clint is kind of a jerk (caring more about his unpublished book than almost anything else), Doug is essentially a serial killer, Wade is an ex-jock bully (who does get things done) - you get the picture. It turns out these teachers have more to worry about than a lack of cell phones and cursing students - it turns out the local poultry factory has added a little extra into the chicken nuggets - something that turns any pre-pubescent human into a raving, eat-your-face-off monster. After a few brutal deaths, the teachers form a group and must decide how to best deal with the situation.

For a movie that delights in some excellent violent scenes (many involving children -a nice change of pace) - it also has a lot of sitting around empty classrooms and worrying about what to do. Granted, it also gives a chance for some great one-liners and gags - but I was actually hoping for a bit more action. That being said - the finale is worth waiting for - and even ends on a potential sequel note (quite abruptly actually). The movie pretty much flew entirely under the radar, so I'm guessing chances are not good - but I would happily go for a round 2 on this one.

The film does allow for the characters to grow a bit. Our cheerful small-town Lucy gets to let her anger fly for once and the thick Wade gets to show a little heart and bravery. Even Clint, perpetual loser he thinks he is, gets to have his moment in the sun. The effects are pretty good - the makeup on the kids (along with a bit of CGI) is well done. The tone is dark but funny and for the most part I got what I expected. If you're a fan of dark comedy and the zombie genre, this film is for you.