2.5/4

3/4

2.5/4

3/4

3.5/4

3/4

3/4

2.5/4

3/4

3.5/4

2.5/4

3/4

2.5/4

2/4

2/4

3/4

3.5/4

3/4

3/4

3.5/4

2.5/4

2.5/4

3.5/4

3/4

2.5/4

Next 25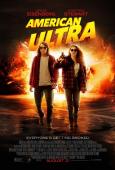 American Ultra
Natural Stoned Killers
2.5/4 stars
First off, whoever was in charge of marketing this film should have been fired. American Ultra, as I recall, was advertised as a stoner comedy with a bit of action thrown in. What it should have been advertised is John Wick mixed with the Bourne Identity with a few lighthearted and romantic moments thrown in. This is overall a pretty dark film with a lot of violence.

Jesse Eisenberg plays, Mike Howell, a guy who likes weed and hanging out with his girlfriend, Phoebe Larson (Kristen Stewart) as the film opens, he is planning the perfect proposal in Hawaii, but thanks to a sudden panic attack (and not the first one) he is unable to leave the small town of Liman, West Virginia. But what Howell is unaware of is that is really a highly-trained CIA agent - and because of a smarmy, up-and-coming desk jockey (Topher Grace, playing the part of the full-of-himself yuppie smartass to a tee) - he is marked for termination. But Howell former handler (Connie Britton) isn't about to let her pet project just get wiped out and attempts to reactivate him - but isn't quite successful. As a team of unstable assassins is unloosed on the city (which finds itself in a quarantine due to "Super Typhoid"). Mike is put into several life or death situations when his identity comes through and he becomes a certified super agent.

I actually thought American Ultra was a smart take on the whole secret identity type of film. Eisenberg plays the part of stoner / sleep agent well. His reaction to pulling off amazing moves while managing to stay alive (often to his own confusion) is quite fun to watch. Sure, his chemistry with Stewart could have a been a lot better, but there are still some sweet moments to savor (especially towards the end). I especially loves how Grace portrayed the absolute worst type of Alpha Male pseudo tough guy - two of my favorite moments are his calls between him and Britton and later a call between him and Eisenberg. Dark comedy is still comedy - and though the funny moments are few and far between - they are there.

Supporting cast, including Tony Hale, John Leguizamo and Walter Goggins (as an assassin known as the Laughter - guess why?) also add interesting characters to the mix. Overall, I think the casting was pretty good for the film. The other thing is the film does not shy away from violence - lots of bullets fly and lots of people die - if you are squeamish at all and think this is some light-hearted comedy - you will be in for a shock. Seeing as I have no problem with violence, I didn't really have a problem with how things were presented.

American Ultra was not the movie I was expecting - but, in a way, I'm glad. If this had been just another stoner comedy with a bit of violence thrown in, I think I would have been disappointed. As it is - American Ultra suffered mostly from bad marketing and I think if they had spun it a different way, it probably would have played much better with the action crowd. If you are a fan of action, I think you would like this one - it's a bit dark but worth a watch.