3.5/4

2.5/4

2.5/4

3.5/4

3/4

2.5/4

3/4

2/4

2.5/4

3.5/4

3/4

2/4

3/4

2/4

2.5/4

2/4

3/4

3/4

3.5/4

3/4

2/4

2/4

3/4

3.5/4

2.5/4

Next 25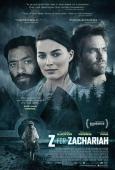 Z for Zachariah
It All Ends So We Can Begin Again
2.5/4 stars
Z for Zachariah takes an intimate approach to the end of the world. We don't get to see what happened - nor do we even get to see the real aftermath. All we get are a trio of people who have somehow survived the nuclear attack (and fallout) and are just trying to survive. We see this rather bleak world through their eyes and how they approach this brave new and very lonely world.

Our first look into the world is from Ann Burden (Margot Robbie). Far from being the glamed up model ala Wolf of Wall Street - she is a Midwest down-home girl here. Alone on her family farm, she plants, traps and gets by - her trusty dog (aren't dogs always there in the post-apocalypse?) by her side. She is religious but doesn't push it and, despite the circumstances, isn't about to give up. She has chickens, fresh water and fish - but she doesn't have anyone else.

That is until scientist John Loomis arrives. Chiwetel Ejiofor plays the radiation-suit clad man who, when we first meet him, is amazed to find a place with somewhat fresh air - so much so he nearly kills himself by bathing in irradiated water. Ann nurses him back to health and once better, he wastes no time in putting his talents to good use - figuring out how to get gas without electricity and even designing a way to utilize the radioactive waterfall to power a wheel to get a generator up and running again. The relationship between him and Ann begins as one of convenience, but being the only man and woman around means that feeling soon emerge.

That leaves us with Caleb (Chris Pine). A miner who managed to survive, he sneaks around for awhile before the trusty dog eventually finds him. The younger man thinks there is a haven down south in Anson - but Loomis is sure this is a pipe dream and their best chance is making their own place to live. The two clash - now physically, but you can tell each is battling - with Ann in the middle.

The movie doesn't have much action - its more introspective, with the characters and their emotions telling this story. There are plenty of heavy moments - especially in regards to Ann's missing brother and the experiences the men have had as well as moments of levity and breakdowns when alcohol is present. It's a quiet movie filled with quiet moment, but that doesn't mean the impact isn't there. The three leads do find work in presenting these characters, flaws and talents alike.

The ending was probably the biggest letdown as it left things a big ambiguous while also cutting things off just when it seemed it was going to get really interesting. I was left wanting more - and maybe, just maybe, they could have left us with some hope instead of such an abrupt cutoff. Granted, much like The Road, this is not a film that takes a feel-good tour of the end.

All in all Z for Zachariah is a character study - one that just so happens to take place after a major event takes out most of the world. The spark is there, just don't go into this expecting fireworks.