3.5/4

3/4

3/4

3.5/4

2.5/4

2.5/4

3.5/4

3/4

2.5/4

3/4

2/4

2.5/4

3.5/4

3/4

2/4

3/4

2/4

2.5/4

2/4

3/4

3/4

3.5/4

3/4

2/4

2/4

Next 25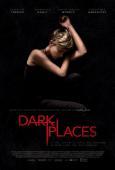 Dark Places (2015)
To Bury the Past is to Abandon Your Future
2.5/4 stars
Coming out on the heels of the adaptation of Gillian Flynn's Gone Girl, Dark Places is likewise based on the novel of the same name. Now, let's face it, anything following Gone Girl is going to have a rough time and Dark Places is no exception. While it does its best to navigate the twists and turns of a murder mystery, it feels too rote in its execution, despite some good performances.

We follow Libby Day (Charlize Theron) who was only seven years old when the rest of her family was brutally murdered. Her teen brother, Ben, (Tye Sheridan), a fan of heavy metal and (by default in the 80s) Satanism was quickly apprehended and charged with the crime, despite the clear lack of evidence to his involvement. Years later, with sympathy money running out now that she is an adult, Libby grudgingly accepts an invitation from Lyle Wirth (fellow Mad Max: Fury Road co-star Nicholas Hoult) to speak at a convention to his "Kill Club". Though reluctant, the promise of money is too much to ignore. Once there, after almost ditching the scene because of the weirdos, she find's Lyle's group is dedicated to solving murders. She almost turns them away until she learns her brother has only three weeks until all his files are shredded and finding the real truth behind the murders with it. Against her better judgement, she goes to see her brother (Corey Stoll) in prison and thus begins her journey in to confronting her past to learn the truth and maybe, just maybe, finally be able to move on with her life.

Dark Places is an apt titles, as the film does its best to steer into some pretty harsh places: desperation, allegations of abuse, good-for-nothing father, cow mutilation (don't ask) - okay, so there are a lot of tropes at play, but at least some of them work. Kudos have to go to Christina Hendricks for playing the harried mother who tries her best to keep her family farm afloat while single-handedly raising her children. Theron plays the maladjusted Libby well - though maybe leans a bit too much on the nihilistic angle. Better is Hoult, trying to help even as the person he had dedicated his life to solving the murder of her family nearly universally shuts him down - good for him with sticking to his guns (also, he's a reformed pyro). In smaller roles Sean Bridgers is great as the abscent father who only comes around when he need money (and, in later life, lives in a strychnine-saturated wasteland) while Drea de Matteo gives a short but powerful performance as the older version of the girl Ben was accused of molesting.

All in all, most of the acting comes across well, but the story is too easy to predict and the outcome never really in doubt. It's a good murder mystery that has its moments, but just can't bring all the elements together to rise above "good". I would recommend this, but it just won't stick with you.