2.5/4

3/4

2.5/4

3/4

3.5/4

3/4

3/4

2.5/4

3/4

3.5/4

2.5/4

3/4

2.5/4

2/4

2/4

3/4

3.5/4

3/4

3/4

3.5/4

2.5/4

2.5/4

3.5/4

3/4

2.5/4

Next 25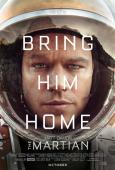 The Martian
A Pirate, Potatoes and Disco on Mars
3.5/4 stars
You think you're having a bad day? Mark Whatney just got his by flying debris in a major storm - storm that happens to be on Mars, and it happens to puncture his suit, and his team leaves him behind barely making it off Mars themselves. But Whatney isn't dead - and he really, really, really wants to stay alive.

The Martian is a story about living - and utilizing all your knowledge and ingenuity to keep alive in what could be considered the worst possible situation. That is the bulk of the story, but it's also a story about coming together for a common goal. If this goal is to save one man, so be it - what better reason to have China and America finally get along? A bit far-fetched, maybe, but hope is a powerful tool to get people to work together - and push themselves to the limit.

Ridley Scott has had a rough road of late. Prometheus was a letdown, Exodus was a big-budget faceplant and The Counselor was underwhelming to say the least. With The Martian, Scott has got his mojo back, and one can hope this points to better things ahead. For Matt Damon, it's another excellent role. As Whatney, he really manages to stretch his acting legs - drama, humor, pain - for a man stranded alone with nothing but old episodes of Happy Days, bad disco music and a lot of potatoes, he manages pretty well. But far from being a one-man show, The Martian boasts an impressive supporting cast - Jessica Chastain as the captain who blames herself for losing Whatney and is the strongest proponent to get him back, Jeff Daniels as the taciturn head of NASA trying to balance the future of the program with saving one man, Kristen Wiig as the media liason also trying her best to put a good spin on the news, Sean Bean as the head of the Mars missions (who gets a killer Lord of the Rings reference at one point in the film) and the rest of the crew including Kate Mara, Sebastian Stan, Michael Peńa and Aksel Hennie. But the cream of the supporting crop is certainly Chiwetel Ejiofor, who just seems to ooze gravatis in whatever he does - and it's no difference here.

The cast helps a lot, but The Martain looks amazing. Shot, in part, on location in Wadi Rum, Jordan (where they just so happen to have a red desert) the film captures the grandeur and desolation of the red planet. Sure, I'm sure quite a bit is greenscreen as well, but the special effects are just as good as the real thing. The film doesn't have a lot of action - but it keeps you on the edge of your seat. And, there is humor - Whatney's disdain for disco music (despite the fact all the source music is that era - David Bowie's Starman, Abba's Waterloo, Donna Summer's Turn the Beat Around), his love of ketchup and his maritime piracy - it's a nice balance to the more heavy scenes of, you now, constantly being on the edge of death.

Even thought the film is big long - it never feels like it drags. I'm sure you could take out bits and pieces here and there to tighten things up, but overall it does a good job. In fact, I think you could add more to a few parts to flesh a few more things out - but that's maybe just me. The coda is a bit too feel-good, but I think the characters deserve it after what they went through.

Overall, The Martian is one of the better films I have seen in 2015. It's going to be a crowded awards season, but we'll see if it resonates enough to at least get a few mentions.