2.5/4

3/4

2.5/4

3/4

3.5/4

3/4

3/4

2.5/4

3/4

3.5/4

2.5/4

3/4

2.5/4

2/4

2/4

3/4

3.5/4

3/4

3/4

3.5/4

2.5/4

2.5/4

3.5/4

3/4

2.5/4

Next 25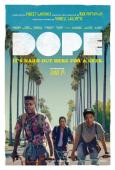 Dope
It's Not Whack, It's Dope
3/4 stars
Dope is a coming-of-age story that puts a new twist on films in the mold of Boyz N tha Hood or Menace II Society. Once again, we follow a group of teens living life in "The Bottoms", a rough neighborhood in Englewood, CA. But instead of following drug dealers and gang members, we follow Malcolm, Jib and Diggy - three "geeks" who are smart, way into 90s culture ans simply trying to navigate a school and neighborhood where there exists a real possibility you could die (or at least lose your shoes or bike) on a daily basis.

The reason Dope works so well is that Malcolm, played by Shameik Moore, comes across as a very real person, as do his friends and the people around hims. This includes Dom (A$ap Rocky) a local drug dealer who, through a series of events, he happens to get invited to his birthday party while also finding himself smitten with Dom's girl, Nakia (Zoë Kravitz) who, like Malcolm, is seeking to escape by earning her GED and getting into college. Of course, things go south as the party and Malcolm becomes the unwitting owner of a highly-potent brick of Molly - and thus his own adventure begins as he must figure out a way to get rid of it leading to dark web sites, shootouts and public urination.

Dope does an excellent job of balancing out the very serious threats Malcolm faces while keeping the humor intact. Plus, the soundtrack is phenomenal both in the use of classic hip-hop and original songs, which was provided by executive producer Pharrell Williams. The dialogue is on point, the direction by Rick Famuyiwa is spot on and the supporting cast (especially stoner-techie Will Sherwood played by Blake Anderson) is also a boon.

Probably the biggest flaw is that it seems to wrap up a little too nicely. Everything that could go right, does go right. Sure, it ends on a high note, but I think its takes the easy way out and has little in the way of consequences for the undertakings that go on in the later stages of the film. That being said, you can't fault the movie too much.

Dope is one of the more enjoyable films of the year. Put this on a double-bill with Straight Outta Compton and you have got yourself the ultimate hip-hop experience.