3/4

2.5/4

3/4

3.5/4

3/4

3/4

2.5/4

3/4

3.5/4

2.5/4

3/4

2.5/4

2/4

2/4

3/4

3.5/4

3/4

3/4

3.5/4

2.5/4

2.5/4

3.5/4

3/4

2.5/4

3/4

Next 25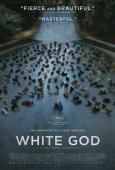 White God ( Fehér Isten )
The Meek Shall Inherit the Earth
3.5/4 stars
Really interesting - what starts off as kind of a family drama slowly morphs into a type of horror film (ala Alfred Hitchcock's The Birds). Lili and Hagen are inseparable - though he's a mixed-breed mutt and she's a moody 13-year-old. But it all goes wrong when she's sent to stay with her father - who lives in an apartment where dogs are frowned upon. Also frowned upon - dogs interrupting her orchestra practice. Her dad, fed up, let's Hagen go - on the street. What follows is a two-fold journey - Lili, looking for Hagen, gets caught up trying to find him while also trying to get back into the orchestra (props for trumpet - that was my old instrument of choice). Hagen has it much worse - shades of Samuel Fuller's "White Dog" as he finds himself in part of a dog-fighting ring before escaping only to wind up in an animal shelter where likely death awaits... but it's not for him.

The final act of the movie shifts again - Hagen is out for revenge, and he is angry. It's kind of crazy and not just a homage to The Birds, but also nods to the like of Alien and other horror films I'm sure I've overlooked. There are also none-to-subtle jabs about how should deal with those who believe they are below them (hint: don't treat them like they are below you or the old "bite the hand that feeds" will literally happen). So, yet, politics do come into play.

That being said, White God is the rare film that works on several levels - from a standpoint of animal cruelty, a touching drama, a gripping horror, a political allegory - no wonder Hungary decided to submit this as their official foreign Oscar selection. Based on the quality here, I hope it gets selected for at least the nomination.