3.5/4

3/4

3/4

3.5/4

2.5/4

2.5/4

3.5/4

3/4

2.5/4

3/4

2/4

2.5/4

3.5/4

3/4

2/4

3/4

2/4

2.5/4

2/4

3/4

3/4

3.5/4

3/4

2/4

2/4

Next 25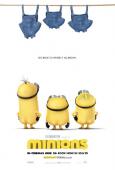 Minions (2015)
Minions: Little, Yellow, Different (In a Good Way)
3/4 stars
Minions may be aimed at a younger crowd, but I still found plenty to enjoy in the escapades of everyone's favorite little, yellow chaos-causing Minions. Plus, considering most of the film is spoken in a wild mix of English, Spanish, Indonesian and straight-up gibberish, it's no small feat you can get an hour-and-a-half out of it and still feel like nothing was filler.

Minions starts off at the beginning - the way beginning - as we see single-cell Minions evolve into our pill-shaped friends we know and love. Their goal is simple - always follow the biggest, meanest most evil guy around... well, unless they happen to cause their untimely demise. Dinosaurs? Check. Neanderthals? Check Egypt? Check. Napoleon? Check. But eventually they finds themselves alone and bored - until one brave Minion decides to find a new master to serve - Kevin, and he's joined by guitar-playing Stuart and energetic (if small) Bob. The three thus begin a globe-trotting adventure from New York to Orlando to England - in the groovy period of 1968 (when Nixon was running for President, The Dating Game was on TV and Queen Elizabeth was still young).

From Villain Con (and excellent take on Comic Con) to Abbey Road - the Minions does throw in some nice touches that adults will understand more than the kids. Yes, the humor is mostly visual - with some random phrases thrown in - but even if works mostly for the kids, I still think adults will have a good time. If nothing else, the soundtrack (featuring the likes of The Who, The Doors and The Rolling Stones - among others) is a great addition to the film. Make sure you stick around after the credits for a Minion-ese take on a classic Beatles song. All told, I was expecting this to skew younger based on reviews, but I was surprised at much I liked it.

That being said, Minions is still not as good as the original Despicable Me - though I would say it's at least on par with the second film. I don't think I laughed as much this time around - but there was enough humor (low-brow or not) to keep me entertained and I felt it was worth the ticket. If you enjoyed the first two films - there is no reason to pass up Minions. I have a feeling we haven't seen the last of the little, yellow guys.