2.5/4

2.5/4

3.5/4

3/4

2.5/4

3/4

2/4

2.5/4

3.5/4

3/4

2/4

3/4

2/4

2.5/4

2/4

3/4

3/4

3.5/4

3/4

2/4

2/4

3/4

3.5/4

2.5/4

2/4

Next 25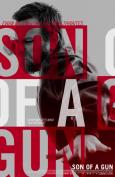 Son of a Gun
Crime with Passion
2.5/4 stars
The first full-length film from director Julius Avery, Son of a Gun is slow burn, and though it has some pacing issues, thanks to some solid performances and inherent chemistry, this mix of heist/jailbreak/double-cross and revenge - all rolled into one - is a good first step into the right direction.

JR (Brenton Thwaites) has just arrived in prison for a minor infraction - out in three months with good behavior according to the officer - and yet, thought he only has a short stint, he soon finds himself in for much more than he bargained for. His roommate is the target of a group of toughs - the kind that show their love frequently and with great vigor - and he tries to intervene. He also draws the attention of Brendan Lynch (Ewan McGregor), a career criminal of some note, who at first brushes the young man off, but comes to his aide when his roommate commits suicide and he becomes the next target. This help doesn't come free, however, and JR becomes intrinsically linked to Lynch.

What follows is a complex web of false loyalty, deception, heartbreak and maybe an escape for more than one person. Also, we get an impressive prison break, a gold heist, shifty characters, retribution and even some romance. What makes things work is that McGregor and Thwaites have a great chemistry on screen. It's obvious McGregor is a kind of surrogate father figure here - and though he is violent, untrusting and even uncaring - he still comes across as a decent guy. Thwaites, meanwhile, is looking for acceptance - validation that he matters - in the beginning he makes it clear he has no family (at least one he doesn't care about) so entering into this world is a way for him to be something. That's when he meets Tasha (Alicia Vikander Alicia Vikander) - a Russian who is forced into the life of eye-candy for crime lord Sam Lennox (Jacek Koman). This is the other part of the chemistry - the smoky Vikander is a great match for Thwaites at they form an immediate connection - and though the relationship is tested, one wants nothing more than for the couple to come out on top.

The film's biggest fault is the pacing. Though there are moments of intensity and connection, I still felt you could shave a good 15-20 minutes off the running time and still be left with a much better film. If you want non-stop action, you are looking for the wrong film. As I said, this is more of a slow burn than a big bang. While there are a few notable action scenes (the prison break, a pretty good car chase and a tense finale), it mostly relies on intense emotion to get by. But some scenes just seem to drag on - and the chess theme, though touched on, could have been integrated better.

Overall, Avery crafts a noble first effort. If you want a crime film that packs a more emotional punch, it's worth your time.