2.5/4

3/4

3.5/4

2.5/4

3/4

2.5/4

2/4

2/4

3/4

3.5/4

3/4

3/4

3.5/4

2.5/4

2.5/4

3.5/4

3/4

2.5/4

3/4

2/4

2.5/4

3.5/4

3/4

2/4

3/4

Next 25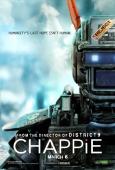 Chappie
Feels Artificial, Not Intelligent
2.5/4 stars
Director Neill Blomkamp is certainly a man who isn't afraid to take chances. District 9 was an alien sci-fi film with a none-too-veiled Apartheid message. Elysium was a futuristic vision of the 1% taking control. That brings us to Chappie - another near-future vision that explores A.I. and its implications. This one, however, doesn't seem to have much of a bigger message, and it comes across as taking bits and pieces - some Short Circuit here, some RoboCop there - and making things work. While that doesn't make Chappie a bad movie - it doesn't make is a necessarily memorable one either.

Blomkamp once again places the story in South Africa - riddled by increasing violence, the city takes a drastic approach and commissions the use of a robotic police force to fight along regular officers. These Scouts, developed by genius inventor Deon Wilson (Dev Patel) make the city, if not perfect, at least a whole lot safer. Tetravaal Company President Michelle Bradley (Sigourney Weaver) watches profits grow as more and more of the Scouts are ordered, with the rest of the world taking notice. Meanwhile, a fellow weapons developer, the mulleted Vincent Moore (Hugh Jackman) fumes as his more bulky, militarized Moose unit is passed over in favor of the versatile and slick Scout models.

But outside, the gangs still try and a trio Ninja, Yo-Landi (South African rave-rappers Die Antwoord - playing somewhat skewed versions of themselves) and Amerika (Jose Pablo Cantillo) ow quite a bit of money to crime boss Hippo (Brandon Auret). They figure the best way to get it is to pull off a heist - one they know will be impossible without taking down the Scouts - so they figure why not kidnap the egghead responsible for building them and have him throw the off switch. Unknown to everyone, Deon has been working on his own A.I. program - one that will give full consciousness to a machine. When he reaches a breakthrough and finally presents it to Bradley, she shrugs it off - essentially telling him to forget about it. Instead, he absconds with a broken unit and hopes to realize his vision. That vision is interrupted when Ninja and Yo-Landi track him down.

Forced to awaken his creation, the A.I. arrives with the voice of Sharlto Copley. Like a child, it must learn - but Deon has not choice but to leave him with the gangsters. Unfortunately, he is also forced to leave behind the master control chip - one that is integral to upgrading all the other scouts. This oversight allows rival Moore to track him down - and when he learns about this rogue A.I. - he comes up with his own plan. Needless to say, things don't go as planned (for pretty much everyone) leading to a city full of riots, a huge showdown and some deaths - and one major revelation for the future of mankind. Still, despite the setup, it still kind of feels like empty calories.

One of the main issues is that so much time is spent with the duo of Ninja and Yo-Landi. I don't know much about the rave-rap scene in South Africa, but the fact that most of the soundtrack is made up of their music, doesn't endear me to their cause. As actors they aren't exactly going to be the next big thing. Grating and somewhat irritating - Ninja comes across as a wannabe jackass and Yo-Landi, while supposed to be a mother figure, comes across as more of a punk fairy than someone who should be raising kids. It's too bad they are given more screen time than Weaver and Jackman combined.

But beyond the questionable casting, the overall tone of the film feels off. Despite the R rating, I felt it could have easily been PG-13 and lost almost nothing. There isn't a lot of violence, really, a few shootings and that's really it. Mostly it's probably the language that earns the rating. I was expecting a darker story, too, and it just didn't go there. The only time it really go me was when Chappie is given his life lesson by being dropped off in a random lot and meets a small group of scofflaws that proceed to taunt and hurt him despite his pleas. That, and the ensuing drama with Moore, is the most powerful the film gets.

Overall, though, the film feels like it took too many bits and pieces from more well-known films - as I said, Short Circuit and RoboCop show through - as, I am sure, you can find many others. The themes and plot just feel a bit too recycled - and it also hurts the prospects of the film. In the end, Chappie isn't a bad film - it just feels a bit too familiar and doesn't nearly take as big of chances as Blomkamp's other films to make it standout. Here's hoping that the upcoming Alien relaunch is a return to form, because after Elysium and Chappie, he needs a change of pace.