3/4

3.5/4

2.5/4

2.5/4

3.5/4

3/4

2.5/4

3/4

2/4

2.5/4

3.5/4

3/4

2/4

3/4

2/4

2.5/4

2/4

3/4

3/4

3.5/4

3/4

2/4

2/4

3/4

3.5/4

Next 25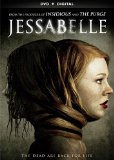 Jessabelle
The Horror Pieces are There But Don't Quite Fit
2/4 stars
A kind of Southern gothic tale that tries to mix in just about every horror element (voodoo, haunted house, tortured past, dreams vs reality) but because it can't settle on one thing, it never finds quite the right tone and gets bogged down because of it.

Jessabelle opens with a bang - literally - as a young woman and her boyfriend are involved in a car accident. The now wheelchair-bound Jessie (Sarah Snook) is returned to her childhood home to recuperate. Her somewhat unhinged father (David Andrews) takes care of her while she also reconnects with a childhood friend, Preston (Mark Webber). But, of course, things can't be so simple. When she discovers a box under her bed containing a videotape from her long-dead mother (Joelle Carter), it seems to contain a warning about "someone watching" her. Sure enough - soon things go bump in the nigh, she begins to have visions of a girl and these visions begin to bleed into reality. People start to die, and slowly but surely, Jessie uncovers a shocking history that has been long-buried - but never forgotten.

As I said, the movie can't quite settle on what it wants to be - and while the two leads work well enough together, the film never finds its footing. Because of the shift in tones, it starts off as a slow-building more creepy style horror, but then goes in for the jump-scares and more action-oriented terror. I wish it had stuck with how it started, but throwing in the voodoo and family drama - it was just too much and became a bit unfocused. The accents also kind of go in and out - but maintaining a believable southern drawl is hard enough on its own.

There are a few moments of brilliance to be found here - but for every genuinely good moment of horror, there are three more that set the film back. It's not a bad piece of horror - but it is all over the place. And because it tries to do so much, it loses focus and becomes just another average horror film. The elements are there, but it never comes together. It gets an A for effort, but barely makes the grade for the result.