2.5/4

3/4

3/4

3.5/4

3.5/4

3.5/4

3/4

2/4

3/4

2.5/4

3/4

3/4

2.5/4

2/4

2.5/4

3/4

2/4

2/4

2.5/4

2/4

2/4

3/4

2.5/4

3/4

3/4

Next 25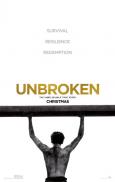 Unbroken
Some Cracks Show, But Unbroken Holds Strong
3/4 stars
Next time I tell you about how bad a day I've had or how terrible my life is - just remind me of Unbroken and life Louis Zamperini had to live during WWII - shot down, surviving 45 days out at sea, surviving not one but two Japanese POW camps - anything life has thrown at me through this point pales in comparison.

Zamperini (played by Jack O'Connell) grew up as a petty thief but thanks to the love and support of his brother, Pete, he turned his back on that life and turned to running - specifically cross-country, which in turn led him to the 1936 Summer Olympics in Germany. These flashbacks are interspersed with his role as a bomb operator - missions which hold the very real danger of death. When their own plane is damaged, they are given the relatively benign task of a rescue operation. But their replacement plane is barely holding together and when their engines go out they must make an ocean landing. Only three men survive - Zamperini, the pilot, Phil (Domhnall Gleeson) and Mac (Finn Wittrock). The three men must survive on limited rations and their own company for survival.

There are plenty of harrowing moments out on the ocean - from shark attacks, to a sudden storm to a Japanese plane nearly sinking them - but the best moments are the quiet conversations between the men. Talking about how to make the perfect gnocchi, faith and family - while I wish more time had been spent digging a little deeper into the lives of these men, what we find out at least gives us some insight into their lives.

By the time "rescue" rolls around, only two of the men are left - but instead of open arms, the two are captured by the Japanese - and this is where the true test of survival begins. Zamperini eventually finds himself separated and alone, at a camp run by Watanabe, called "The Bird" by the men - he becomes an object of obsession for the man - one who is at time quiet buy also merciless, he walks around with a cane and is not adverse to using it.

Faced with the constant threat of physical and mental stress, all Watanabe wants to is to wear Zampeniri down to the breaking point, even as the allies bombs drop nearer and nearer. But eventually he is promoted and leaves the camp. But after being transferred to a remote camp, where the prisoners are forced to haul coal, Watanabe returns - his promotion intact at this new camp, where he wastes no time in starting up his relationship with Zampeniri again.

Unbroken doesn't raise the bar for the inspirational "true story" genre. What it does, however, is give us some amazing performances. O'Connell is fantastic as Zampeniri - the moments when he actually breaks down, but then gets back up, are truly masterful. He has chances to take the easy way out - but each time he stands his ground - whether it is refusing to become a propaganda puppet or finishing a race despite injury - this is a man who truly knows the meaning of "never give up."

Beyond O'Connell the cast is filled out with some lesser-known names that none-the-less shine. Gleeson is excellent as the blonde-haired Phil - his physical transformation is almost uncanny - meanwhile Jai Courtney and Garrett Hedlund provide their support. But it is Takamasa Ishihara who is the real catch among the supporting cast. Ishihara is better known (and credited as) Miyavi - a Japanese pop star and (based on his usual image) the last person you would think could pull off a ruthless camp director. But he does - and he does is with a quiet grace and an icy aloofness and a bit of madness. Despite O'Connell's strength and determination, I think it is Watanabe who will stick with me the most after viewing.

Unbroken wants to be deeper than it is - it really doesn't go too far beneath the surface - but when you think about the real story (punctuated by a truly emotional ending featuring the real-life Zampeniri) and what one man can endure - it truly makes you thankful for your own life.