2.5/4

3/4

2.5/4

3/4

3.5/4

3/4

3/4

2.5/4

3/4

3.5/4

2.5/4

3/4

2.5/4

2/4

2/4

3/4

3.5/4

3/4

3/4

3.5/4

2.5/4

2.5/4

3.5/4

3/4

2.5/4

Next 25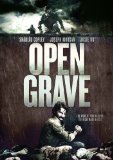 Open Grave (2014)
A Grave Matter Indeed
3/4 stars
Open Grave is the type of movie that doesn't hold your hand. If you like your horror straight-forward (X guys kills Y teenager, or some variation) - this is not the film for you. However, if you like trying to figure out what's going on - and kept on the edge of your seat - this is the movie for you. I prefer to think a little - so I was pleasantly surprised with the outcome here.

Sharlto Copley starts off the film by waking up in a mass grave (hence the title) with no recollection of what the hell is happening to him. He is saved by a mysterious woman only to wind up in a nearby cabin with a group of people who likewise don't know who they are and only have their drivers licenses to put a name with their face. One woman (Josie Ho) doesn't even speak English - though she seems to know more about what is going on than anyone else. Thus starts the mystery of who they are, why they are there - made all the more important when they explore their surroundings and discover they are far from alone.

As I said - the film does not give you the full picture - you are handed bits and pieces here and there. Flashbacks, hazy memories, strange (and often terrifying) characters - these are handed out in small doses as you attempt to figure out the whole story. Copley is finally given a name - but you still don't know if he is a savior or a monster as talk of experiments and human test subjects leak out - but you still can't trust anything - until it all comes crashing down in the end - and let me tell you, the ending is a kicker.

Now, Open Grave is a slow burn despite some intense scenes. The editing will be distracting to some - (this is the same director as Apollo 18 - which I hated - believe me, this is much better) and the dialogue can be a bit... challenged but give it time. If you look at it strictly from the character/story aspect, it really does make a good movie. This movie flew completely under the radar - probably made a blip at the theaters - but it's the type of horror movie that makes the popular films (like Paranormal Activity: The Marked Ones, Devil's Due and The Quiet Ones) look even worse by comparison. If you like good horror, that is smart and offers a nice twist, Open Grave is the perfect film for a dark night.