2.5/4

3/4

2.5/4

3/4

3.5/4

3/4

3/4

2.5/4

3/4

3.5/4

2.5/4

3/4

2.5/4

2/4

2/4

3/4

3.5/4

3/4

3/4

3.5/4

2.5/4

2.5/4

3.5/4

3/4

2.5/4

Next 25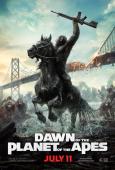 Dawn of the Planet of the Apes
Dawn Burns Bright
3.5/4 stars
For those who think that a motion-capture performance can't have just as much impact as a live actor, I submit to you Dawn of the Planet of the Apes. Rise of the Planet of the apes surprised me in how well it told the origin story of this conflict between man and super-charged apes. Dawn, in my eyes, surpasses the original and continues to tell a compelling story - and does so in a way that is both action-packed and emotional. And Andy Serkis (the mo-cap specialist behind the leader of the apes, Caesar) is a huge reason why.

Serkis brings an emotional depth to Caesar that, even though I know his work through Gollum and Rise of the Planet of the Apes, is still remarkable. The face, the eyes, the little touches - if this isn't an artform, I will eat my hat. I can't wait to see what he has in store for is in the upcoming Star Wars films because in Dawn, he is simply the best actor on screen (without actually being on screen). He carries the weight of the film - and considering not a single line of dialogue is heard until about 15 minutes into the film - that is a lot of weight to carry. But he pulls it off, and that, for me, is the highlight of the film.

We pick up Dawn just where Rise left off - an outbreak of a deadly disease dubbed the "Simian Flu" has spread across the globe. The human population is decimated, cities and governments fall and those who survive the initial sickness may not survive each other as mankind descends into chaos. Ten years later, the apes have created their own society in the woods outside San Fransisco - they hunt, raise their children, teach them - all under the eye of Caesar. They haven't seen a human in two years and some think they have finally died off altogether - that is until a man wanders into their territory and, as man is oft to do, shoots one of them in fear. Carver (the always shifty-eyed Kirk Acevedo) is the shooter - and he is not alone. Malcolm (Jason Clarke), one-time CDC scientist Ellie (Keri Russell) and his son Alexander (Kodi Smit-McPhee) are part of a team sent into the area to figure out if there is a way to get the power back on via a nearby dam.

The human camp is a thriving, if small, community headed by Dreyfus (Gary Oldman). Now, the trailers would have to believe that Oldman is the protagonist of this film, but the truth is not that easy. You see, once the humans are brought before Caesar, and explain their predicament, the ape leaded reluctantly agrees to help. This does not sit well with the scarred Koba (Toby Kebbell) who went through horrific experiments at the hand of man, and holds a serious grudge. He even gets Caesar's own son, Blue Eyes (Nick Thurston) on his side by painting he old man as weak for helping the humans.

Of course there is going to be a showdown - and when it happens, it's a major battle - one I would put up against any action film out there. But then, where else are you going to find apes on horseback firing machine guns? There are sacrifices made, betrayals, revelations and even some quiet moments that have a surprisingly emotional resonance - a lot of things I wasn't expecting for a film where the majority of actors are digitally created.

That being said - apes isn't perfect. If Serkis delivers a standout performance as Caesar, I wish the actual human counterparts had been as strong. Though each character has their moments, none of the humans truly stand out. Oldman is nearly over-the-top in his role, while Clarke doesn't register enough. I love Russell, and think she did a fantastic job (along with Smit-McPhee) but neither are given nearly enough screen time to develop their characters. I guess you can say the humans in the film are missing the human element - or at least more needed to be on display.

That being said, the apes franchise is going in the right direction. I'm interested to see where they are going to go with the next one - because with this kind of success, you know we'll be getting another.