3.5/4

3/4

3/4

3.5/4

2.5/4

2.5/4

3.5/4

3/4

2.5/4

3/4

2/4

2.5/4

3.5/4

3/4

2/4

3/4

2/4

2.5/4

2/4

3/4

3/4

3.5/4

3/4

2/4

2/4

Next 25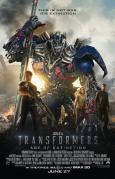 Transformers: Age of Extinction
Loud, Long and Dumb
1.5/4 stars
I knew exactly what I was getting into with Transformers: Age of Extinction - I knew, because I have already subjected myself to the previous three Michael Bay action films. Despite an updated cast, Age of Extinction is exactly what I have come to know: big, loud, CGI overload, terrible dialogue, surface-level character development, more CGI and an ending that leaves the door open for yet another film.

There is an attempt to establish a story - after the events in the previous film, the Transformers - both Autobots and Decepticons - have been hunted down by the government - who is no longer interested in working together. Led by the CIA (Kelsey Grammer in rare villainous role) and a black ops unit called Cemetary Wind (headed by a stone cold Titus Welliver) the group hunts down all transformers and ends them. But that's not all, a technological company (with shades of Apple) headed by Joshua Joyce (Stanley Tucci) has been using the technology culled from the alien robots to build Earth's very own Transformers.

Amidst all this we have a family drama as Mark Wahlberg plays Cade Yeager - a one-time robotics expert who has fallen on hard times as none of his inventions have panned out and he has to rely on doing odd repair jobs for neighbors to pay the bills - and put his daughter Tessa (Nicola Peltz) through college. It isn't working out so well as his home is near foreclosure, he's behind on all sorts of bills and he has to resort to borrowing money from his laid-back co-worker Lucas Flannery (T.J. Miller) to buy an old beat-up semi he has a hunch about.

Of course said semi turns out to be none other than Optimus Prime - who has been missing since a near miss. Cemetery Wind is helped along by a mysterious group of Transformers led by Lockdown - who has a prison ship full of a menagerie of creatures, both organic and mechanical. He has Prime on his hit list and won't leave until he's contained. This proves problematic to the Yeager family, as soon after they discover the true nature of the truck, they bring the wrath of the government down and are soon forced on the run. They are joined by Tessa's stock-car racing driver boyfriend Shane Dyson (Jack Reynor) who has a bit of a rocky relationship with the overly-protective Cade.

The entire film is one huge CGI set piece after another - I mean the film just bombards you with action - from car chases, to shootouts to dinosaur robots - it never lets up. But at nearly three hours - it just gets too much. Despite the non-stop action, I found myself yawning because the flash is not all that interesting - it serves as nothing more than eye-candy without really advancing anything in the film. That's the trouble - no one is more than a cardboard cutout - and the ear-searingly bad dialogue doesn't help any. This is truly the perfect summer blockbuster - but it's so bloated and full of itself, it's nowhere near a good film - and barely gets an adequate rating in my book.

Wahlberg is certainly an improvement over Shia LaBeouf and even Peltz was more than just eye candy - but a little better acting can't make up for the rest of the completely dumb action that goes on. Plus, for a movie where CGI is key, sometimes it looked pretty bad - and I don't think anything about the movie is going to stick with me for over a week. I don't know why I keep going to these in theaters, because I know it's going to be bad - but I just can't help myself.