3.5/4

3/4

3/4

3.5/4

2.5/4

2.5/4

3.5/4

3/4

2.5/4

3/4

2/4

2.5/4

3.5/4

3/4

2/4

3/4

2/4

2.5/4

2/4

3/4

3/4

3.5/4

3/4

2/4

2/4

Next 25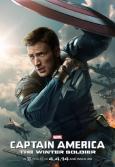 Captain America: The Winter Soldier
Trust No One
3.5/4 stars
While there is no shortage of spectacle with Captain America: Winter Soldier - compared to the rest of the the Marvel films, it seems much more grounded. The story - a mix of modern-day government interference (S.H.I.E.L.D. is the like the NSA kicked up to 11 in the movie) but still leading back the Captain's history - that is WWII and Hydra. Yes, there is action, but the story is a lot deeper than I would have expected from a super hero movie and that's a step in the right direction.

We open on a secret mission to liberate a SHIELD ship (operating outside its parameters) from a group of terrorists. Captain America is along, as well as the Black Widow - Chris Evans and Scarlett Johansson reprise their roles - on the orders from Nick Fury (Samuel L. Jackson). While the Captain is busy kicking all kinds of terrorist ass - Black Widow is on her own side mission "compartmentalization" as Fury puts it later. This is the first inkling from our hero that all is not as it seems - he's an honest man in a world where honesty is punished (hello Wikileaks and Edward Snowden) more often than praised. Trust is big part of Winter Soldier - who can you trust - and why? Soon after this secret mission, Fury is targeted by an elite unit who do everything in their power to take him out - led by a mysterious man with a metal arm - a ghost, a myth - dubbed The Winter Soldier.

We also get to know one of SHIELD's most senior members, Alexander Pierce (Robert Redford - bringing a nice bit of dramatic weight to the scene) - who is prepping Project Insight - involving three massive helicarrirers (upgraded versions of the single one seen in the Avengers) which, when launched, will have enough technology and weaponry to target individuals the world over and, able to somewhat predict to the future (thanks to mountains of data it can access) not only take out current threats, but those whose profiles represent of future threat. Naturally, Captain America is quite disturbed by the idea - as he prefers things like trials and justice over wiping out thousands of people in one fell swoop.

But that is the least of his worries when Fury shows up at his apartment, looking a bit worse for wear - and, knowing full well his apartment is bugged (because he did it) - can't quite reveal what he has found before a bullet finds him. We get to meet his neighbor Agent 13 (Emily VanCamp) who has been assigned to keep an eye on him - before he goes after The Winter Soldier - only to find his new nemesis is pretty much on equal ground - and he escapes.

Soon after we get into the real meat of the story - involving a long-simmering plot from Dr. Arnim Zola (Toby Jones, long dead but kept alive via some ancient databanks of computers) who was brought to the U.S. after WWII thanks to Project Paperclip - and that will spread like a cancer across SHIELD and represents an immediate threat to the future of humanity. Let's just say that old adage about Hydra (cut off one head and two will grow in its place) is alive and well.

Because The Avengers didn't already have enough heroes - we are introduced to Sam Wilson aka The Falcon - a former special ops agent who has some nifty set of wings - as played by Anthony Mackie. And, make sure to stick around for the end-credits scene to see two other faces sure to make an impact (and I still don't know how the Guardians of the Galaxy storyline is going to affect the next films). By the time Age of Ultron rolls around - we're going to have like 20 people (good and bad) scrambling around.

Although the story has almost a Cold War thriller feel - it doesn't skimp on the action. There are plenty of shoot-outs (I can't help but think of how bad the collateral damage is - especially in the tourist-friendly Washington D.C.) and the Captain makes much better use of his shield this time around. Even though he's in the title, The Winter Soldier actually has minimal scene time (though when he's on, he's on - and they make the most of him each time). But the climactic battle is as big and bombastic as anything the Marvel universe has given us yet.

This is a film that takes a much different approach to the superhero world than any preceding it. The Phase 2 films have taken a bit darker approach, and Winter Soldier is no different. However, it's also one of the smartest of the Marvel films - finding that balance between action, character and drama - and it represents a nice change. Heroes take note - this is the kind of film you should endeavor to be.