3/4

3.5/4

2.5/4

2.5/4

3.5/4

3/4

2.5/4

3/4

2/4

2.5/4

3.5/4

3/4

2/4

3/4

2/4

2.5/4

2/4

3/4

3/4

3.5/4

3/4

2/4

2/4

3/4

3.5/4

Next 25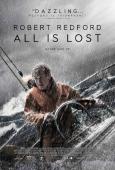 All is Lost
An Old Man Vs. the Sea
2.5/4 stars
All is Lost has been gaining significant attention from critics - and while it may have gotten an Oscar snub, it has been more than welcome in other awards circles. But for all the critical acclaim, this story of survival, while certainly intense, just left me wanting a bit more.

First things first, Robert Redford can carry a film on his own. If there is one thing that stands out in All is Lost, it is that it truly is a standout performance from Redford. Plus - he had to go through a lot - underwater scenes, lots of wind and rain, working on a boat (sometimes upside down) and a raft - I have to think that the filming had to be pretty rough, and, let's face it, the man is no spring chicken, so I have to give it up that he put himself through such a demanding role. And he does so convincingly - he hardly says a word but his face and action convey more than enough emotion to carry the film.

The main issue I have is that though we get a great tale of survival, I never really get a sense of who Redford's character is supposed to be - he is never even given a name. Some kind of background would have been appreciated - why is sailing alone, does he have friends and family, a job, a life? Just... something that would have helped me to connect with the man. Sure, we can all appreciated survival - and just what our limits would be or what we could drive ourselves to do in the same situation - but still, what's the motivation (other than, you know, staying alive). I want some meat on the bone.

That's my main grievance here, but I do think All is Lost was filmed amazing well. I especially like the shot of Redford climbing the mast - the POV is exceptional - and the look he has when faced with an oncoming storm - excellent. And speaking of the storm - those scenes of Redford essentially facing down mother nature (in the form of pounding rain, unrelenting wind and massive ship-rolling waves) is one of the best depictions of life on the sea I have witnessed on film. It is pulse-pounding and defines the "edge-of-your-seat" feeling.

If survival is your thing - you will be entranced by All is Lost. As far as I'm concerned, every aspect seems quite realistic - from the opening (meeting a random shipping container in the middle of the Indian Ocean - bad luck) to trying to navigate by sextant, just missing possible rescue and, of course, fresh water - having never been in said situation, I can't confirm anything, but to me it felt very much real and Redford was an excellent choice because he has the experience and range to pull off this one-man show. I only wish he had been a bit more fleshed out.