2.5/4

2.5/4

3.5/4

3/4

2.5/4

3/4

2/4

2.5/4

3.5/4

3/4

2/4

3/4

2/4

2.5/4

2/4

3/4

3/4

3.5/4

3/4

2/4

2/4

3/4

3.5/4

2.5/4

2/4

Next 25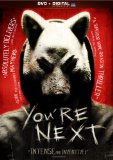 You're Next
When Hunters Become the Prey
3/4 stars
I'm not sure I admire the term "mumblegore" to describe the recent crop of indie horror directors including director of You're Next Adam Wingard (as well as frequent collaborators Ti West, Joe Swanberg, AJ Bowen and Amy Seimetz amongst others - all who appear in the film). I've tried to give West a shot - but I really didn't like either House of the Devil or The Innkeepers. However, I did enjoy both V/H/S (and its sequels) as well as the ABCs of Death (another short horror film collection). I wasn't sure where You're Next would fall - but luckily it came out on the good side of horror experience.

A lot of the credit for my enjoyment of You're Next lies squarely in the hands of lead actress Sharni Vinson - who gives a standout performance as the kick-ass female who turns the tables on the would-be killers. She keeps a level head (despite being shot at by crossbows and chased by axe-wielding maniacs) and isn't afraid to set some lethal surprises around the house. It's like Kevin McCallister of Home Alone mixed with Ripley from Alien - inventive and tough as nails.

You're Next essentially follows the Davison family as they get together to celebrate their parent's 40th anniversary in a somewhat remote area. The film starts off in traditional slasher fashion by instantly killing a couple - and though it slows down for a bit (to introduce us to the family) once it picks up and the killing starts - it never backs down again. It was great seeing veteran actress Barbara Crampton (best known for Re-Animator and From Beyond) as the mother - in the extra features Wingard lamented she looked so good for her age they had to work to make her look older for the role. As I mentioned, many of the "mumblegore" core directors and producers show up (only to die in some horrible fashion) - but it's great this group continues to support each other (though You're Next was technically done two years ago).

I have to say the twist wasn't nearly half as smart as it thought it was - though another twist at the end was done much better. Still - for a movie about a terrorizing home invasion, at least it kept things interesting. West films tend to be much slower-paced, which is what I was afraid of - but Wingard does a much better job of keeping things moving - while most of the deaths happen quickly - the cat-and-mouse game that makes up the second part of the film is just as fun as the more gorier aspects.

I'm surprised this didn't do better when it was released. It's certainly better than the remakes and sequels they continue to churn out and I am all about supporting originality. Sometimes it pays off to take a chance, and I hope to see much more from Wingard in the future.