3/4

3.5/4

2.5/4

2.5/4

3.5/4

3/4

2.5/4

3/4

2/4

2.5/4

3.5/4

3/4

2/4

3/4

2/4

2.5/4

2/4

3/4

3/4

3.5/4

3/4

2/4

2/4

3/4

3.5/4

Next 25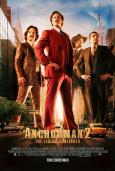 Anchorman 2: The Legend Continues
Not So Legendary
2.5/4 stars
Trying to describe what made the first Anchorman so good isn't that easy, but talking about what is wrong with Anchorman 2 is much easier. It's like they took everything that worked in the first one, cranked it up to 11 and hoped it would work. And while there are a few great, shining moments, the overall effect just works out to be OK - not great - just pretty average.

Let's start off with the best part of Anchorman 2 - the newscaster battle royale that takes place at the end of the film. This scene alone made me add an extra half-star if only because it was A) awesome and B) had some of the best cameos in any film. I won't spoil who shows up (some familiar faces and some I wasn't expecting at all). But needless to say when the GNN crew faces off against the BBC, ESPN News, MTV news, Entertainment Tonight (or this film's generic equivalent) and the (overly polite) Canadian news and the History Channel - things get intense (and, in one case, quite hairy). It's over-the-top hilarity at its best and for at least five (or so) shining minutes, Anchorman 2 elevates itself over the first film.

However, that brief moment cannot make up for some other questionable decisions. Adding in Meagan Good as the sassy non-nonsense Linda Jackson may have seemed like a good idea - but it seems to be an excuse to make an excess of groan-worthy race "jokes" - many of which fall flat (the exception being love scene and the genius flashes to the breaking of various race barriers). The dinner scene alone with Will Ferrell is just so, well, terrible, it I can't believe they let it slide.

I love Steve Carell - and Brick Tamland was a standout character in the first film. Apparently he was elevated from bit player to second banana as he gets much more screen time and line readings - and even a love interest (in the likewise mentally unstable Chani, played by Kristen Wiig). But the saying about having "too much of a good thing" - wholeheartedly applies here. Brick is good in small chunks (who doesn't remember "I love lamp."), but Anchorman 2 just draws it out and out and out until it loses its power of humor. I still say Carell has some of the better lines - but I think they overused the character this time around.

Finally you have a good 15-20 minute chunk that could have easily been excised from the nearly two-hour movie - the whole "I'm Blind and Raising a Shark" fiasco - it wasn't funny - it brought the movie to a crawl and was simply (in my mind) pretty pointless. Worst part of the movie by far.

The rest of the movie is solid - but I don't think it's going to have the same lasting impact as the original Anchorman. It does a good job of sending up the trend of news as entertainment as opposed to, well, actual news - and there are certainly some decent one-liners to be had as well. You will laugh (and probably groan more than once) and it is entertaining - but you can't capture lightning in a jar twice. Ron Burgundy - I still salute you, but even legends can stumble once in awhile.