2.5/4

2.5/4

3.5/4

3/4

2.5/4

3/4

2/4

2.5/4

3.5/4

3/4

2/4

3/4

2/4

2.5/4

2/4

3/4

3/4

3.5/4

3/4

2/4

2/4

3/4

3.5/4

2.5/4

2/4

Next 25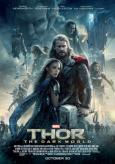 Thor: The Dark World
Dark Times Bring Out the Best
3/4 stars
I admit that I found the original Thor to be one of the weaker Marvel entries. It was a bit too corny with not nearly enough meat on the bones. Yet much like Iron Man 3 was a step above the Iron Man 2, Thor: The Dark World takes a step in the right direction and turns out much better than the first time around.

After a brief history lesson involving the dark elves, Aether and Asgardians - we catch up with our hero, Thor (Chris Hemsworth), as he works to quell the final resistance of the "Nine Worlds" while his Earth-bound love interest Jane Foster (Natalie Portman) is quietly going on with her life (even dating) when she is interrupted by her effervescent assistant Darcy (Kat Dennings) as an interesting anomaly appears. Before you can say "don't touch that" Jane finds herself the vessel of the uber-powerful Aether and Thor rushes her to Asgard looking for a cure.

Of course, he's not the only one looking for power - the long dormant Dark Elves, led by Malekith (a heavily made-up Christopher Eccleston) want the Aether so they can finish their war and bring eternal darkness to the universe. No one else is a fan of the plan but with some nifty cloaking ships, an interesting portable black hole weapon and a really, really mad Kurse (another heavily modified version of Adewale Akinnuoye-Agbaje) - they pretty much turn Asgard to ruin. This means Thor must turn to Loki (Tom Hiddleston) for help even as his father Odin (the always stately Anthony Hopkins) wants to hunker down.

The best thing about this Thor is that it takes itself much more seriously. By moving the action from Earth to Asgard, it opens up a much more enjoyable story. That isn't to say there isn't some comedic elements. Luckily Dennings and Stellan Skarsgård (as the still somewhat-addled yet clearly genius Dr. Erik Selvig) are along to provide the levity needed. But it is really Hiddleston who steals the show (and has the best twists). Loki continues to be the most interesting character in the Marvel universe as far as I'm concerned - he was excellent in The Avengers and continues his streak here. Whether he's having a tongue-in-cheek moment pretending to be Captain America or 'gasp' actually making a heroic turn - he plays that role to the hilt. But the character is always scheming - no matter how many people threaten to end his life.

The villain is much stronger here as well. Though the Dark Elves aren't given nearly enough time - at least the threat is apparent and quite real. The special effects are quite strong as well (though probably not worth the extra 3D cost) with plenty of action to go along with a robust story. I can only hope the next Captain America continues the trend of improving on the original (though I liked Captain America much more than Thor - so that might be a tougher act to follow). Also - make sure you stick around for the credits - to get a glimpse of just where the Marvel universe is heading next.

All in all, Thor: The Dark World is an excellent entry into Marvel's Phase 2 plan. For awhile I thought the superhero genre was played out - but with more films like these, the franchise should have no problem making fans (and the studio) happy.