2.5/4

3/4

2.5/4

3/4

3.5/4

3/4

3/4

2.5/4

3/4

3.5/4

2.5/4

3/4

2.5/4

2/4

2/4

3/4

3.5/4

3/4

3/4

3.5/4

2.5/4

2.5/4

3.5/4

3/4

2.5/4

Next 25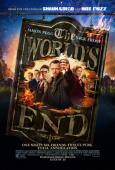 The World's End
Let's Boo-Boo
3.5/4 stars
What started with Shaun of the Dead and continued with Hot Fuzz comes to a pretty much perfect conclusion in The World's End. The so-called "Blood and Ice Cream Trilogy" (or Cornetto Trilogy if you will) is simply one of the greatest achievements in British comedy and Edgar Wright, Simon Pegg and Nick Frost should be quite proud of the result.

The World's End opens in 1990 - as a group of five friends embark on an epic pub crawl in their hometown of Newton Haven - the "Golden Mile" - 12 pubs, sixty pints... all led by their self-professed leader Gary King. They don't quite make it to The World's End, but for King, this turns into the pinnacle of his life. Where his friends all go on to become successful business and family men - Gary is trapped in the past. He comes upon the brilliant idea to get the gang back together and finish what they never could back when they were younger.

The talent that comes together is another great feat. You have Martin Freeman as Oliver Chamberlain (or O-man) - best known recently for playing Bilbo Baggins in The Hobbit. Paddy Considine (who also appeared in Hot Fuzz) as Steven Prince, Eddie Marsan as Peter Page and Rosamund Pike as Oliver's sister, Sam (and love interest for both Gary and Steven). You also have a cameo from former Bond Pierce Brosnan, long-time actor David Bradley (best known to American audiences as Argus Filch from the Harry Potter films) and longtime collaborator Bill Nighy lends his voice to the proceedings as well.

While the cast is not quite as all-star as Hot Fuzz, it is still highly impressive. Each character has their own personality and story - Pegg, of course, is given the most screen time. Gary is not the most likeable of characters - but Pegg knows how to play it to the hilt. Frost, meanwhile, takes on a much more serious role rather than the happy-go-lucky persona he usually gives. A falling out with Gary hangs heavy over the entire film. Freeman is the rather timid one, Considine plays the guy who should be leading but is constantly in the shadow of Gary and Marsan is the family man trying to recapture a bit of that youth.

Everything about Gary is trapped in the past - from his car (The Beast) to the mixtape he still plays. All his friends know this is a bit unhealthy, but they play into the charade. But something in Newton Haven is... off. The boys start out at two nearly identical pubs - The First Post and The Old Familiar. Gary is sad no one seems to recognize him - until the third bar, The Famous Cock - where his is promptly thrown out after being barred for life (stemming from the first bar crawl). But finally, at The Crossed Hands, they realize the truth - people in the town have been replaced by some kind of blue-blooded "robots" - a name they try to correct as every turn. Gary suggests that a quick escape will be met with death and to fool these body-snatching invaders, to finish the pub crawl as if everything is "normal". Of course, the real reason he wants to continue is to heal his fractured psyche - the only way he sees to do that is to finish the Golden Mile once and for all.

The rest of the movie involves a bunch of fights (with heads and limbs flying at every turn) and not everyone survives (well, survives as a human anyway). But the best part of this film is that it contains the same humor and wit that both Shaun of the Dead and Hot Fuzz contained, but it has been honed to its absolute best. Lines, mannerisms even the music - all comes together as it should. My one complaint is that I think the conclusion is a bit of a strange choice. But I guess if you want to end a trilogy - while not end a trilogy. I do hope that they collaborate again - it would be a shame to lose such a talented group of people.