2.5/4

1.5/4

2/4

2/4

3/4

2.5/4

2.5/4

2/4

3/4

2.5/4

1.5/4

2.5/4

2.5/4

3/4

3/4

2/4

2.5/4

3/4

2/4

2/4

2/4

2.5/4

3/4

2.5/4

3/4

Prev 25 | Next 25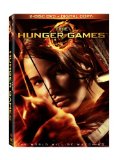 The Hunger Games
Hungry for More
3/4 stars
Over the past few months The Hunger Games has developed it's own gravitational pull - you could not escape it. Based on the hugely popular trilogy by Suzanne Collins, there was a lot of talk when it was announced, even more so as the cast was announced week by week and continued to build as filming took place and, of course, the marketing push inevitably took over.

What this means is the hype was off the chart and expectations reflected this. The Hunger Games is a good movie - it's a great representation of the novel, the casting is phenomenal and the story is gripping. However, while I like the film and do recommend it, there are flaws present that keep it from breaking through to that next level.

I always start with the good, and there is plenty good to go around. First off, Jennifer Lawrence drives this film and she is an inspirational choice to play Katniss Everdeen. She carries the action scenes well and handles the emotional scenes just as deftly. Josh Hutcherson isn't given as much screen time, but he is a good counterpoint at Peeta Mellark - whether he's working the crowd or writhing in agony (or, in one memorable scene, pretending to be a rock) he is understated, but still and important part of the show.

Supporting cast is likewise good. I really like how Stanley Tucci approached the always smiling, gregarious Ceasar Flickman. A combination of Barbara Walters and the world's most twisted game show host he was simply perfect in the role. Woody Harrelson played the reluctant mentor Haymitch Abernathy with a nice mix of distance (as he fully believes these charges are going to die) and then switching to truly caring by the times the games are under way. Wes Bently works his devilish facial hair to the max as game master Seneca Crane and both Donald Sutherland and Lenny Kravitz have brief, but memorable turns as the Emperor Palpatine-like President Snow and stylish stylist Cinna respectively.

The story follows the book pretty much spot on - some character were dropped and Seneca Crane gets an expanded role, but otherwise, in terms of translating written page to screen, this is one of the better examples out there. Plus I love the fact they didn't try to oversell the romance angle to appease Twilight fans. It was there, but it never felt out-of-place or forced. If you were fighting a life or death battle, you would probably confess your love too (even if it might have been that fever talking).

The music fit the picture, the cinematography looked great (especially love the "hallucination" effect Katniss experiences after being stung by a particularly nasty insect) and the special effects were effective without being distracting. Technically, the film looks and sounds great.

However, the film fails to deliver on one major part and, this may be true to the book as well, but I think it comes across even moreso in the movie. Despite a 2:20 minute running time, there is a startling lack of development of any kind barring our two main characters. This is especially true amongst the other Hunger Game tributes - even Rue, played by newcomer Amanla Stenberg, who shares some of the most emotionally powerful scenes with Katniss, has almost no background - no sense of who this girl is - and that's true of pretty much every other person in the games: Isabelle Fuhrman comes off as some knife-throwing psycho, but that's all we get out of her character. Likewise Alexander Ludwig's Cato is depicted as some muscle-bound sword-wielding, neck-snapping monster - but that is all we see.

I know I'm not supposed to compare this to Battle Royale - but at least that film I had some sense of who a handful of those kids were - In Hunger Games it's hard to feel any emotion other than for Katniss and Peeta, because we don't get to know anyone else - and that's a shame. But it extends beyond the teens fighting to the death - Liam Hemworth plays Gale - essentially Katniss' confidant and buddy, but his screen time is extremely limited - ditto for Katniss' mother and sister. Even Harrelson could have been given more screen time to flesh out his character.

That's my biggest beef - I Lawrence was amazing and Katniss is certainly the main character, but I just wished we could have gotten to know the other folks a little more before death ultimately claimed them. My only other concern is that while the romance is certainly believable, I wasn't seeing a lot of spark between Lawrence and Hutcherson. The star-crossed lover angle is a big part of the story, but they came across as kind of cool to me. But that doesn't bother me too much, as I didn't go in for the romance part of the story anyway.

Also, the PG-13 rating was the right call, and they don't skimp on showing some pretty powerful death scenes, but I honestly am kind of hoping that they push the envelope even more - if it requires an R, so be it. I don't revel in violence, but there are some brutal points in the books, and I don't think they should be overlooked.

Final verdict is that if you're a fan of the books, you will love the film. If you are simply looking for something with action and drama, it will fit the bill too. The only thing missing for me is that sense of connection - you get it with Katniss, but not much else. It's not a deal breaker, but it just deflated my expectations a bit more than I expected. I have no doubt this will blow away records, and I am looking forward to the next two films, I just hope they can go a bit deeper these next few times around.