3.5/4

3.5/4

4/4

1/4

3.5/4

4/4

2.5/4

3.5/4

3/4

3.5/4

3.5/4

4/4

3.5/4

4/4

1/4

3/4

3/4

0.5/4

1.5/4

3/4

4/4

2/4

3/4

3.5/4

4/4

Next 6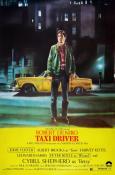 Taxi Driver (1976)
Wow
4/4 stars
New York City cab driver Travis Bickle constantly, almost obsessively, reflects on the ugly corruption of life around him, and becomes increasingly disturbed over his own loneliness and alienation. In nearly every phase of his life, Bickle remains a complete outsider, failing to make emotional contact with anyone. Unable to sleep night after night, Travis haunts the local pornography emporiums to find diversion, and begins desperately thinking about an escape from his depressing existence.

Taxi Driver is an astonishing movie. One of Scorcese's earlier but better films he has ever done. With a gripping performance by none other than Robert DeNiro and a character story which is done with perfection, the movie is perfect. Though a little slow, it is gripping the way that this character changes through the 105 minute film length. Now, the story is actually a very basic one when you think about it. It is basically a man who is tired of the city. So, he decides he is going to be the man to stand up and make a difference, which is ironic because he makes it with violence, the one major problem in our cities. The film revolves around violence, prostitution and abuse.

Robert DeNiro is one of the most known actors on the face of the planet. He has played in a large percent of other Scorcese movies and other big mob films as well. His performance as Travis is astonishing because Travis is a complicated character. The film does make a lot of big points and messages though throughout, about what is wrong with the world and the people that infest it. Though Travis makes plenty of wrong decisions in this film, he is almost a hero.

The last few scenes of the movie are very intense and a special group of scenes put together. The one amazing scene is when Travis finally makes the stand and decides to make a move. Here, he begins shooting people in the building, proceeding to getting hurt himself. This was an astonishing scene because it was really creepy how this guy just turned from one man to another in a matter of a few days. And we finally get to see the moment where he shapes his hand into a gun and makes gun noises as he points the fingers to his head. An amazing scene.

In the end, Taxi Driver is a fantastic movie which I can watch over and over again.