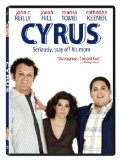 Cyrus
Definitely Worth Seeing
3.5/4 stars
This movie was refreshingly good relative to the high budget thrillers normally seen in the summer. Although paced somewhat slowly, it was not boring at any point. The humor was more low key, but certainly still present.
This movie is more about the acting than the flashy tricks of the high budget films. The whole cast gives great performances.
You should see it.