4/4

2/4

2/4

1.5/4

4/4

4/4

2.5/4

2/4

2/4

2/4

4/4

0.5/4

0.5/4

2.5/4

2.5/4

2/4

1/4

2.5/4

4/4

4/4

2.5/4

4/4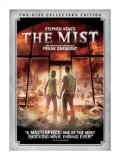 The Mist
Like the best episodes of The Twilight Zone
4/4 stars
I'll admit it. I love every movie Frank Darabont has done. And yes, that includes The Majestic. Hate all you want. There is just something about Darabont that I can't quite put my finger on, but to me he's great. Although I'm pretty sure that a lot of people who liked his other movies will hate this one.

The Mist is one of the best horror movies I've seen in ages. Don't get confused though. This isn't horror in the vein of slasher movies, j-horror films, or torture horror. This is a good old fashioned monster movie that just so happens to be a look at how people react when bad and unexplainable things happen. The Mist most resembles a Twilight Zone episode. If you're a fan of The Twilight Zone then you know that's not a bad thing.

The Mist is based on a Stephen King novella and it is a pretty faithful adaptation. This is one of the rare times when the movie is actually as good if not better than the story it's based on. Darabont did a great job of tightening the story up and really breaking it down to what was necessary. The film never really lets up and Darabont just keeps turning the screws and heightening the tension. Darabont also recruited the camera crew from The Shield and it shows.

The monsters in the film are great. They never look like they belong in this world. The film has great effects but it's the way that they are spliced in with the people that really give it this strange and unsettling look. Whether it was intended that way or just due to budget restraints, it really made the movie for me.

The ending is what will really divide people. It is definitely the biggest difference between the film and the book. I really thought it was one of the best endings I've ever seen in a horror movie. Others will probably hate it. If you intend to see this film then don't find out the ending before hand. It really will ruin the movie. It's that good.

All in all The Mist is great, as if you couldn't tell that I liked it from the paragraphs above. It's a wonderful horror movie and just a great movie in general. Go see this movie!