3.5/4

3/4

1.5/4

3/4

3/4

3/4

3/4

3.5/4

0.5/4

2.5/4

2/4

2.5/4

3/4

3/4

3/4

3.5/4

3.5/4

3.5/4

2.5/4

3.5/4

4/4

3/4

2.5/4

3.5/4

3.5/4

Next 5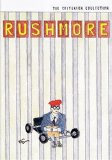 Rushmore
The Rushmore Academy Flyers
4/4 stars
This is probably my all time favorite movie. Jason Schwartzman was great as Max Fischer, the over achieving extracurricular activity kid who befriends Bill Murray's character, falls in love with a teacher, who has a fling with Murry's character who fights with Max who brings everyone together at the end to see his play.

The writing is great and even better after multiple viewings. I take offense to Alex's comment that "if you like Napoleon Dynamite, go for this" because this has a story with high points and low points and like I said earlier is written way better than Napoleon Dynamite. They aren't even in the same league in my opinon.

Wes Anderson has a style all his own with humor that is dry and subtle but it grows on you. Also check out The Royal Tenenbaums.