3.5/4

3.5/4

3.5/4

3.5/4

3.5/4

3.5/4

3.5/4

3.5/4

3.5/4

4/4

3.5/4

1/4

1/4

1.5/4

1/4

0.5/4

3.5/4

3.5/4

3.5/4

3.5/4

3.5/4

3.5/4

0.5/4

0.5/4

1.5/4

Prev 25 | Next 25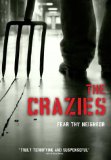 Crazies, The (2010)
Gone of the deep end in a interesting way.
3.5/4 stars
Do you find life uninteresting ? Is it not disturbing ? Then come to Pierce County, Ogden Marsh, Iowa. Home to the wrecked aircraft carrying Bio-germ warfare, slated for eradication ,that didn't make it to its final destination. Now, time is running out on the inhabitants of this quaint little American town, if the virus doesn't get you, the Federal Government will ! The Feds well aware of the airplane accident, troops in the Military to control, let's face it, extinguish the residents and contain the situation.
Sheriff David Dutton(Timothy Olyphant) faces an increasingly unpleasant situation, the townspeople are suffering from some kind of disorder where they start committing senseless violent acts. As he tries to track down the cause, the US. Military is sent in to round-up the people , separate them, and quarantine the two groups, crazy and less crazy(not affected).People running a fever are segregated and slated for extinction, hah..hah..including the Sheriff and Dr. wife, Judy(Rhada Mitchell).
From the opening scene at the ball field, to the ending, we are taken into the bizarre situation, and forced to make disturbing and life altering decisions. Director Breck Eisner does a really nice job of selling the dilemma. He has a short list of directorial credits(Sahara), upcoming (Flash Gordon) and (The Brood). What makes this film work is the unknown. you are given about as much information as the characters, and are allowed to experience what they choose, and you are left wondering about the consequences. Life is no longer a slam dunk, life is falling into shades of gray, and around every corner lies the difference between life and death. Excellent ! While some people criticize the film for not having allot of scary moments, this film delivers on a more subtle level, tense and scary, but not overwhelming bloody or allot of jump cuts done purely for shock value. I gave this film an 8. Good performances by the lead actors, who keep you engaged. Stay through the first credits to see a news alert, that gives you in a little more info. More of a mind screw, and who can't use a little screwing...?