4/4

1/4

3/4

2.5/4

3/4

2.5/4

4/4

3.5/4

3.5/4

1/4

3.5/4

3.5/4

3.5/4

3.5/4

3.5/4

3/4

2.5/4

3.5/4

3.5/4

3.5/4

3.5/4

3.5/4

3.5/4

3.5/4

3.5/4

Next 25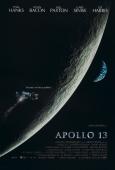 Apollo 13
Not a problem with this movie!
3.5/4 stars
One of the most successful film of the 90s was this stunning recreation of the near-tragic flight of Apollo 13 to the Moon in April 1970. Jim Lovell, Fred Haise, and Jack Swigert were 200,000 miles from Earth at 9:15 PM on April 13, 1970 when an oxygen tank in their service module suffered an electrical short, ruptured, and exploded. Two of their ship's three fuel cells were gone, their entire navigational system was thrown into a tailspin, and their life support was rapidly fading. It was bad enough that their planned moon landing was scrubbed, but it was even worse to consider the strong possibility that they might not get home alive. But with the help of all the brave people at Mission Control, this most perilous flight in the history of manned space travel ended happily with a successful splashdown in the South Pacific on April 17.
Director Ron Howard (BACKDRAFT) recreates this true story with such technical and dramatic precision that APOLLO 13 is nothing short of a masterpiece, ranking it right up there with other such films as 2001: A SPACE ODYSSEY, THE RIGHT STUFF and ALL THE PRESIDENT'S MEN. Tom Hanks (as always), Bill Paxton, and Kevin Bacon give great performances as Apollo 13's crew. Gary Sinise also scores as Ken Mattingly, who was to be the ship's command module pilot before a feared measles infection (which never materialized) beached him. Kathleen Quinlan is good as Hanks' wife, and Ed Harris gives a very steely performance as Gene Kranz, the chief of Mission Control who urges his men on to find solutions to the complex problems that eventually came to surround this mission.
Featuring an excellent score by James Horner, in the Copland tradition, APOLLO 13 won justly-deserved Oscars for sound and film editing. Not to be missed, especially for those space travel enthusiasts out there.