3.5/4

2/4

3.5/4

1/4

3/4

2.5/4

3.5/4

2.5/4

3/4

2.5/4

4/4

3/4

1/4

3.5/4

2.5/4

3.5/4

3/4

4/4

2/4

4/4

4/4

3.5/4

3.5/4

3.5/4

4/4

Next 25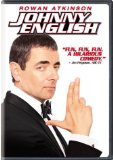 Johnny English
A GOOD LAUGH IS THERAPEUTIC
3.5/4 stars
I ADMIT IT. THIS IS ONE OF MY GUILTY PLEASURES. IT'S A SLAPSTICK COMEDY, AND WHO CAN DO IT BETTER THAN ROWAN ATKINSON...MR BEAN AS I'VE KNOWN HIM. IT'S BEEN AWHILE SINCE I'VE HAD A GOOD LAUGH....I MEAN A GOOD, BOISTEROUS, TUMBLE-OVER, BELLY-SHAKING, GASPING-FOR-BREATH-AND-ABOUT-TO-CALL-911 TYPE OF A LAUGH...

I REALLY HIT THE CEILING WHEN IT GOT TO THE LAST PART WHEN JOHNNY ENGLISH (ATKINSON) ATTEMPTED TO PULL THE FACE OFF OF THE ARCHBISHOP OF CANTERBURY, THINKING HE WAS A FRAUD. TO ADD INSULT TO INJURY, THE POOR SERVANT OF THE CHURCH OF ENGLAND HAD TO PULL HIS PANTS DOWN TO REVEAL HIS PALE BUTT TO THE WORLD!

THIS WHOLE FILM IS JUST RETARDED....... GO SEE IT !