4/4

3/4

0.5/4

3/4

4/4

2.5/4

2.5/4

2.5/4

4/4

3.5/4

3.5/4

4/4

4/4

4/4

3/4

4/4

3/4

4/4

4/4

4/4

4/4

4/4

4/4

0.5/4

4/4

Next 5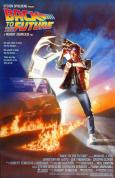 Back to the Future
Make like a tree, and get outta here
4/4 stars
o.k. there's this kid and he likes to skateboard in 1985. He has a set of parents who are loosers and his father still gets bullied by his old high school enemy. His brother woks at a fast food joint and sister, well, i don't remember what his sister does. anyhow, he has a beautiful GF and a friend who is a middle aged man who claims to be a scientist/inventor. He gets a call from his scientist friend who tell him to meet him at the local mall at around 1 a.m. When this kid, Marty, gets there, he finds out that his scientist friend, Doc Brown, built a time machine out of a De Lorean. During the showing off of his time machine, doc reveals to marty about the stolen plutonium he has that helps make time travel possible. The stolen plutonium came from some terrorists, and they now find doc at this mall parking lot. Marty watches the Doc get shot and then runs for cover. he has a split second to get in the De Lorean. After putting it to gear, Marty is off and getting chased by the terrorists. Not realizing that he is approaching the speed that is required to travel through time. Instantly at 88m.p.h marty is transported back to the year of 1955.
Now, in 1955, he bumps into his father. Marty notices his father about to get hit by a car, and he pushes him out of the way. That single act changes his parent's life and stopped his very own existence from occurring. He finds the Doc in 1955 and looks for some help to get back to 1985. And the doc warns marty about the tragic mistake he has made and that he has to fix it before there is no future for him to go back to.
Marty does the job, only all to well. the doc then helps marty get back to 1985 and marty finds his father to be a successful writer and his old school bully is now no threat to the McFly family.
All the other details are non-important yet make the movie the classic that it is.