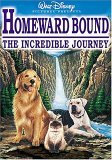 Homeward Bound: The Incredible Journey
Not that great (at all).
2/4 stars
This movie was okay but not the best movie I ever saw, (okay not even close). The animals talk with voices that do totally not fit them at all. The truth of it all is if you don't like dogs or cats you would probably, and I mean it when I say it, HATE this movie. Even if you love animals its not garented that you will like this movie.