2/4

2/4

2/4

3/4

3.5/4

3/4

1.5/4

2.5/4

3.5/4

2.5/4

3/4

3.5/4

3/4

2/4

3.5/4

3/4

3/4

3.5/4

3/4

3.5/4

3.5/4

3.5/4

2/4

3/4

3/4

Next 25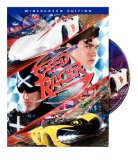 Speed Racer
Awful
1/4 stars
The Wachowski's overburden Speed Racer with the same problem they gave the Matrix sequels - too much of wow-look-what-we-can-do special effects that results in a sacrifice of story, plot, character development, exposition - pretty much everything you need to make a movie.

When the effects aren't inducing dizziness and headaches, you'll be bored to tears by a cast of talented actors who are given an incomprensible plot to follow along with. There's really nothing engaging here at all.

I have to be honest that at about 90 minutes in, my DVD player crapped out and wouldn't play the rest. It's probably because I need to get a new one, but I'd like to think that my DVD player decided it simply couldn't put me through the torture anymore. Well played, DVD player, well played.