3.5/4

3.5/4

3/4

3/4

2/4

3.5/4

2/4

3/4

3/4

3/4

3/4

3.5/4

2.5/4

3/4

2.5/4

3/4

3/4

4/4

3.5/4

0.5/4

2.5/4

2/4

2.5/4

2.5/4

3/4

Next 25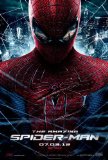 The Amazing Spider-Man
Action Packed Reboot
3/4 stars
The Amazing Spider-Man hits theaters only 5 years after the end of the last rebooted series featuring Tobey Maguire as Peter Parker and Kirsten Dunst as Mary Jane. This last series, which ran from 2002 to 2007 was a decent trilogy, full of lots of action using new age computer effects. So why start up the series all over again? I kind of compare it to James Bond movies, where there are countless stories they can tell and they don't care if the actor who plays Bond changes. Because... people will still go and watch it. The sames holds true with The Amazing Spider-Man, it is being released at the optimal time, July 4th, and people want to go watch an action packed blockbuster over their holiday.

The Amazing Spider-Man features Peter Parker played by Andrew Garfield (from The Social Network). It is hard to compare Toby Maguire to Garfield, because in my opinion, Maguire is somewhat of an outcast, almost strange actor. Even though Garfield is much less of a nerdy Peter Parker, he fills the role much better and I enjoyed him a lot more. Emma Stone plays Gwen Stacy. Gwen Stacy was Spider-Man's girlfriend before he started dating Mary-Jane Watson. So in a way you might say this movie is a prequel to the last trilogy even though Peter Parker does obtain his powers during the 2002 movie. Emma Stone does a great job and is a pleasant addition for this movie. But I have to admit I like Emma Stone in every role I've seen her play, so maybe I'm bias.

This movie is yet another movie shown in 3D. Watching the movie, it looked like it was converted to 3D, as not every seen is in 3D. The only time you really see any 3D is during some action sequences where Spider-Man is swinging around. Do not spend money on the 3D, it falls short just like every other flick since Avatar. The studio is just trying to bank more money. I am not a fan of 3D, and this one just adds to my list of ones fallen short, making me wish this 3D fad will end. I'm not sure what the process involves, but the movie tends to be so much darker when watching in 3D and it almost takes away from the movie. This movie was definitely darker, and I would preferred just watching it in 2D, but since I was given the chance to see it in 3D prior to release, I went ahead and watched it.

The Amazing Spider-Man is a good choice for this 4th of July holiday if you want a movie full of action, a pretty good story, and outright fun. It does not compare to some of the other great movies so far in 2012, or ones we are awaiting coming soon. But it is definitely worth going to the theater and getting out of the heat.