3/4

1/4

0.5/4

0.5/4

1/4

3/4

N/A

4/4

4/4

4/4

3.5/4

4/4

0.5/4

4/4

1.5/4

3/4

2.5/4

3/4

3.5/4

4/4

3.5/4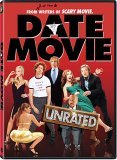 Date Movie
Should be called "Dumb Movie"
0.5/4 stars
Awful. I did not see this movie by choice. So why did I choose to see it? Well I didn't. My employer use to have this monthly contest where certain people would be rewarded with a free lunch and a movie. We would vote on the movie and I lost.

I sat through this movie and dreaded every minute of it. It was not funny and really stupid. I asked myself.."Why is Willow (Allison Hannigan) doing this to herself?" In the middle of this movie I also though to myself..."I would rather go back to work".

Anyway I don't like spoof movies. I watched about 30 minutes of "Scary Movie" and then I had to turn it off. I just could not take it anymore.

Why Hollywood continues to make these movies is beyond me. I guess there are people that like them and as long as they make money, we will see more of them.