2/4

2.5/4

1.5/4

2.5/4

3/4

2/4

2/4

3.5/4

2/4

3/4

3.5/4

2/4

3.5/4

3/4

3.5/4

3/4

1/4

3/4

2.5/4

1.5/4

4/4

3.5/4

3.5/4

2.5/4

2.5/4

Next 25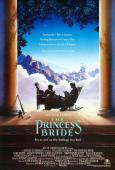 The Princess Bride
Great fantasy film.
3.5/4 stars
I thought this was the funniest, one of the most charming comedies I seen to date. The film is a whimsical satire of romance and fantasy. The story is presented in the movie as a book being read by a grandfather (Peter Falk) to his sick grandson (Fred Savage). It's about a beautiful princess , Buttercup (Robin Wright) who falls in love with a farm hand (Cary Elwes) . At first doesn't know yet that she loves him. Eventually Buttercup realizes his true affection for her and returns his love. Before they can live happily ever after, the princess is kidnapped and that begins a series of hilarious adventures with a werid cast of supporting characters.

Featuring the cruel Prince Humperdinck (Chris Sarandon), a six-fingered henchman, Count Rugen (Christopher Guest), a huge man with enormous strength (Andre the Giant), a master swordsman (Mandy Patinkin), and an evil genius (Wallace Shawn) among others. Like Billy Crystal who verry funny as Miracle Max , I had no idea that was him I thought the voice souunded familar until I saw the credits . The Princess Bride is a strange combination of comedy, adventure, romance and fantasy that works well together.

Directed by Rob Reiner who also directed the 1984 mock rockumentary This is Spinal Tap. This movie is verry funny partly because Robin Right makes such a good romantic princess and partly because every single supporting cast members are complete weirdos. The screenplay by Willam Goldman who wrote the novel is greatly well-written and the people are so funny. This is really a charming film both adults and kids will enjoy.