2/4

2.5/4

1.5/4

2.5/4

3/4

2/4

2/4

3.5/4

2/4

3/4

3.5/4

2/4

3.5/4

3/4

3.5/4

3/4

1/4

3/4

2.5/4

1.5/4

4/4

3.5/4

3.5/4

2.5/4

2.5/4

Next 25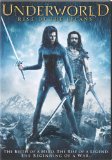 Underworld: Rise of the Lycans
No particularly good or that bad.
2.5/4 stars
Underworld: Rise of the Lycans is the third installment of films in the Underworld series. It is a prequel set prior to 'Underworld' and 'Underworld: Evolution'. The prequel traces the origins of the centuries-old blood feud between the vampires and the Lycans, "werewolves". A young Lycan named Lucian(Michael Sheen)emerges as a powerful leader who rallies the werewolves to rise up against Viktor (Bill Nighty) the vampire king who has enslaved them. Lucian has a Lucian relationship with Viktor's daughter Sonja (Rhona Mitra), they join together to rally his fellow Lycans into freedom.

I must admit that Underworld: Rise Of The Lycans is not a bad movie, for anyone who has seen the first to movies this movie is just a extended look at the franchise's oh-so detailed mythology, a more in-depth telling of the flashbacks in underworld.

As with the last two installents we are still treated to fairly awful dialogue and the vampires still aren't as developed as characters as they should be. But at least Michael Sheen is given a bit more of a role to bite into and the story keeps things simple, allowing the action to move on nicely. Rhona Mitra is a decent actress and a good pick for the role.

No particularly good or that bad, but it's entertaining and watchable.