2/4

3/4

4/4

4/4

4/4

3.5/4

3/4

1/4

2.5/4

2.5/4

3.5/4

3.5/4

3.5/4

3.5/4

3.5/4

2.5/4

3/4

2.5/4

2.5/4

3/4

3.5/4

3.5/4

3.5/4

3/4

3/4

Prev 25 | Next 25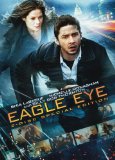 Eagle Eye
"You have been activated"
3/4 stars
Often times while watching movies the viewers will ask themselves 'could this really happen?' That question is raised in this thriller executive produced by Steven Speilberg, starring Shia LaBeouf and Michelle Monaghan. LaBeouf plays Jerry shaw, a copy boy who recieves threatening phone calls from an anonymous woman placing him in the center of a terrorist plot. After escaping FBI custody he crosses paths with Monaghan's Rachel Holloman, a single mom whos son is threated when she too recieves mysterious phone calls. The duo then find themselves on the run from the government and the unknown voice.

Greatly influence by films like 'Wars Games' and 'The Bourne Series', director DJ Caruso who also directed the suprise hit of 20007 'Disturbia' has created an intelligence nail-biter. La Beouf proves again why he's one of the most talented young actors working today. Making the most of every sence with a full range of emotions. The film truly stands out thanks to the rich supporting cast including Billy Bob Thorton and Rosario Dawson among others. The cast is so well-rounded, I mean you have every role really moves the storyline forward. There are no wasted roles in this movie.

One of the great things about this movie is that of the almost absurd circumstances where there is some unknown group of people or computer sorta controling movement of everything. The entire time the cast maintain the proper element of disbelief. It does feel real and makes you question how much technology plays into our everyday lives, from the ATMs to the cameras following them.

The car chases in the movie rival the best of them, and they look like real crashes. With Micheal Bay it would've been stylized, it would be hollywood crashes - computerized, CGI, green screened or something like that. They have real cars. Also it has the most clever 'on-foot' chase I've ever seen within an airport. Eagle Eye never fails to grab your attention with the incredible action sequences.

As much as I loved this movie, it's not perfect in fact the ending I did have problems with. However what I really love are the political undertones of the film suggesting that almost like '2001: A Space Odssesy' that there's a big brother out there and there watching you. Make you want to rethink what you e-mail, text message or take the batery out your cell phone.