2/4

0.5/4

2/4

4/4

3/4

2.5/4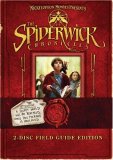 The Spiderwick Chronicles
Waiting for another Chapter
3/4 stars
Fast paced and entertaining; everything Jumanji wasn't.

I enjoyed each of the young actors' performances and their relationship with their mother and her not believing was very organic and believable to the film. Mary-Louise Parker may have gone over the top occasionally in her performance but not enough that it took away from enjoying the film.

The special effects were great and made each of the creatures the children encountered seem real; characters I really cared about and occasionally they made me laugh.