2/4

2/4

3.5/4

4/4

2/4

2/4

2/4

2/4

2/4

1/4

1/4

1/4

1/4

0.5/4

0.5/4

0.5/4

0.5/4

0.5/4

1/4

0.5/4

0.5/4

0.5/4

0.5/4

0.5/4

4/4

Next 4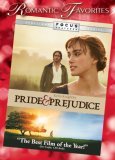 Pride and Prejudice (2005)
We Are All Fools in Love
3.5/4 stars
Let me start out by saying I'm not a big Jane Austen fan and just the thought of reading a novel of hers makes me drowsy. Joe Wright's version of Pride & Prejudice is anything but dreary. With a wonderful eye, energetic performances, and a droll since of humor and wit this piece of Austen's work comes alive on screen and not only is fresh, inviting, and enjoyable it just happens to be one of the best movies of the year.

The film is filled with terrific performances. Knightly is stunning in a glowing performance as Elizabeth that lights up the screen. Her second great performance of 2005, though quite different from her role as bounty hunter Domino Harvey in Domino. McFayden finds just the right notes for the somber Mr. Darcy. Donald Sutherland is quite amusing as the stern but loveable Mr. Bennet who holds his daughters so close to his heart and Judi Dench shows up to play the wickedly evil Lady Catherine de Bourg. Fine performances all.

The film is beautifully shot by Roman Osin that finds the right look for the time period of the piece while still keeping the themes in the relevant present. Joe Wright gets my deep respect for making almost all the right decisions here. Except for one small scene that takes place late in the movie that sets up the declaration of love between two characters, which is shot a little too much like a romance novel, the film the film has few flaws.

I enjoyed this version of Pride & Prejudice far more than I thought possible. It's a quite enjoyable and fun interpretation of the story that balances both the humor and drama. Knightley provides another strong leading role and lights up the screen. I'd recommend this film to any who enjoy the story or even to those, like me, that might need a little cajoling to get into a Jane Austen story.