4/4

0.5/4

2.5/4

3.5/4

4/4

4/4

4/4

4/4

4/4

2/4

4/4

4/4

4/4

4/4

4/4

3/4

3/4

4/4

3.5/4

2/4

N/A

4/4

4/4

4/4

2.5/4

Next 20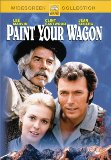 Paint Your Wagon
Paint Your Wagon
4/4 stars
Brilliant comedy with a great cast and some good songs.

The most rembered part i rember is the bull running through the town and first time i ever hearded Clint Eastwood sing.

About two partner's who buy and share a wife, hijacking a stage, kidnaping prostitutes, and turning their mining camp into a boomtown.

With plenty of drinking, gambling along the way.