4/4

0.5/4

2.5/4

3.5/4

4/4

4/4

4/4

4/4

4/4

2/4

4/4

4/4

4/4

4/4

4/4

3/4

3/4

4/4

3.5/4

2/4

N/A

4/4

4/4

4/4

2.5/4

Next 20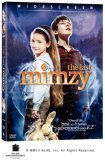 The Last Mimzy
The Last Mimzy
4/4 stars
This a great film for young and old following the story of a brother and sister who spend their holiday on a Island with there mother whist there workaholic father works.

The adverenture begins when they discover a mysterous box on the beach only to open it later to discover strange objects such crystals and shells.

Until one night while Noah sleeps Emma opens the box again and finds a stuffed rabbit called Mimzy in the secret part of the box,

When they start to notice gifts they have been given like Emma moving things with her mind and Noah presents a magnificent design in the fair of science and technology.

And the create a blackout in the state, only for the FBI to trace them and arrests the family, leaving the FBI trying to disclose the mystery.

But Emma unravels the importance to send Mimzy back to the future from where she came from to save the world.