0.5/4

3.5/4

3.5/4

1/4

3/4

3/4

1.5/4

3/4

0.5/4

3/4

2.5/4

1.5/4

3/4

1.5/4

4/4

3.5/4

1.5/4

2/4

2/4

2.5/4

2.5/4

2/4

2.5/4

3/4

3/4

Prev 25 | Next 25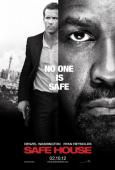 Safe House (2012)
Safe House - A Safe Bet For Good Entertainment
3/4 stars
Ryan Reynolds plays CIA lackey, Matt Weston, whose primary function has been to maintain a safe house in Cape Town for the past year. As we meet him, he's grown restless with the boring assignment and is anxious to be promoted to something more rewarding. He is suddenly thrown into contact with Denzel Washington's character, Tobin Frost, a CIA agent who has been branded a traitor. From there, director Daniel Espinosa takes us on a fast-paced ride that is punctuated with several intense actions sequences involving car chases, shootouts, and hand-to-hand fights.

Reynolds' character is the main focus here and the actor does a great job of conveying the anguish and indecision he feels in having to execute the actions of a field agent that he's studied but never had to carry out before this. His quick reflexes and determination to complete his mission help to overcome his inexperience. As a viewer, you can't help feeling empathetic to his situation.

Oscar winner, Denzel Washington, is the real star power in 'Safe House', but his role is secondary to Reynolds'. Nonetheless, Denzel is excellent as usual here as the mysterious spy with the hidden agenda. We also have Brendan Gleeson ('In Bruges', 'Beowulf') as Barlow, Weston's supervisor. Vera Farmiga ('Source Code', 'The Departed') also plays a CIA manager who question's Weston's capabilities and motives. French actress, Nora Arnezeder, gets an all too brief turn as Weston's love interest. Additional performances by Sam Sheppard and Ruben Blades round out the main cast.

Director Espinosa uses a frenetic shooting style here that keeps all of the action sequences from looking too choreographed and seemed to add to the intensity of these scenes. The pacing is also planned out well with short character interactions punctuated by action from the on-going pursuit. The 115 minutes of running time seemed to fly by for me.

'Safe House' had me drawing immediate parallels with 'From Paris With Love' because of the similar subject matter and the relationship between the two primary characters. I felt 'Safe House' was appealing enough and the story certainly holds your interest. It wasn't until after the film was over that I began to question a few logic points, but those didn't get in the way of an enjoyable couple of hours at the local cinema. All in all, just a darn good action picture.