0.5/4

3.5/4

3.5/4

1/4

3/4

3/4

1.5/4

3/4

0.5/4

3/4

2.5/4

1.5/4

3/4

1.5/4

4/4

3.5/4

1.5/4

2/4

2/4

2.5/4

2.5/4

2/4

2.5/4

3/4

3/4

Prev 25 | Next 25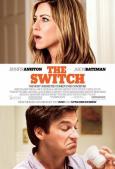 Switch, The (2010)
Not Bad, But Not Great
2.5/4 stars
Single, 40-year-old, Kassie Larson (Jennifer Aniston) has a biological clock that is not just ticking, but screaming for her to conceive before it's too late. When she shares her artificial insemination plan with her one-time romantic interest and best friend, Wally Mars (Jason Bateman), his misgivings get the better of him. What follows is a hilarious and sometimes touching series of events as Wally confirms and reconciles the fact that Kassie's (now) 6-year-old son is actually his.

Co-directed by Josh Gordon and Will Speck (both previously did 'Blades Of Glory'), 'The Switch' manages to cram a lot into its hour and forty minutes of run time. There wasn't a moment where the movie seemed to drag, as each scene was well paced and pertinent to the overall story. Scriptwriter, Allan Loeb ('21' and 'Wall Street: Money Never Sleeps') does a great job of taking Jeffrey Eugenides' short story and making it into a well-balanced film that has both laughs and tender moments.

Bateman's character is central to the story and his performance here is quite enjoyable as he switches between functional neurotic, and a deeply concerned friend. I know I've been hard on Aniston in recent reviews ('Bounty Hunter'), but fortunately for us, her character here plays off of Bateman and is not as critical in making us care about her plight. Jennifer still seems to lack the ability to take a character and make it something unique and notable to viewers. I overheard a couple other theatergoers comment that it felt like she was still doing another episode of 'Friends' – confirming my similar take on her performance.

The real surprise here is Thomas Robinson, as Sebastian – the offspring in question. I dare say he all but hijacks this film. Robinson has had some TV experience, but this appears to be his first film role. His delivery and actions are letter-perfect and he can incite laughter as easily as he draws compassion with his portrayal. Other supporting cast members include Jeff Goldblum and Juliet Lewis.

While 'The Switch' could easily be classified as a 'chick-flick', I don't think anyone looking for a good date-night film would be disappointed. Despite the number of laughs, the story is mainly played straight, which gives essential weight to the heart-felt moments along the way. Even though viewers can easily see where this story is leading us, the trip there is quite enjoyable.